Resident's Parking Permits

Free parking in Cabanya and Woodmead car parks November to March for Lyme Regis Residents.
Available from Lyme Regis Town Council Office from and can be collected between 9.30am and 4.30pm.
A valid Council tax bill for Lyme Regis and vehicle registration document displaying the same address are necessary to obtain a permit.


Flu Vaccination
Lyme Regis Medical Centre 445777

Lyme Bay Medical Practice 443399

Charmouth Medical Practice 560872

Offered to all over 65 and those at risk.
Book now
Portable Wheelchair Ramp available to hire
LymeForward have recently purchased a portable wheelchair ramp that is available to hire (or free for Community Groups). Please contact LymeForward on 01297 441224 or lymeforward@gmail.com
Books to your Door
Unable to get to the Library? Housebound?
'If you are housebound or unable to get to your local

library, we may be able to arrange for books to be delivered to your home, free at regular intervals by volunteers.
We offer a wide range of fiction as well as information books on country life, cookery, travel, biography and other popular subjects. You can request specific books or subjects.
Large print books are available as well as talking books for people with sight problems, illness or other disabilities.
Books and talking books are delivered to your home by volunteers. All staff and volunteers always carry identity cards. Visits are usually every three weeks. There is no charge for our Home Library Service.
For more details, contact your local library and a member of staff will call to see if we can help you to use the library service.'
Something in need of repair or
maintenance around town?
Sign cleaning, clearing and repair. Unblocking drainage gullies, small areas of footpath, roadway or carriageway edge repairs. Report these problems to either Lyme Regis Town Council 01297 445175; Dorset Direct 01305 221000 or Click Here
Organisers -
Use this page to ask for help; volunteers; sponsors; give advance notice of events and other information about the town.
Unstable cliffs along the coast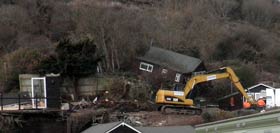 Chalets being demolished at Ware Cliffs
Where to Buy just about everything in town
Lyme Life
A community page with information for residents in the Lyme Regis locality
See a list of Regular events

---
Volunteering can be an ideal way to ease from a working life into retirement and to meet new and local people if you are new to the area. Lyme Regis has many active charities and organisations - many of which are listed on 'Regular Events' below and even more on our Clubs page.
---
The Hub Youth Club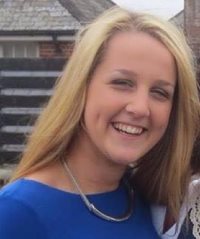 The Hub Youth Club is very pleased to welcome Lydia Glover as a volunteer at its Wednesday and Friday sessions of Youth Club. Lydia is a second year student at The University Centre Somerset based in Taunton. She is studying Health and Social Care with the intentions of becoming a Primary School Teacher and throughout this current year she is studying her second year of her degree as well as a diploma in children's residential care. Lydia was advised to go on placement whilst completing her diploma and she chose The Hub Youth Club for her organisation as it would give her another stepping stone onto my teaching career goal.
Lydia said "I'm really happy that I can do my placement at The Hub. I have been going to the Youth Club as a volunteer for a few weeks and I really enjoy seeing the children and young adults use the centre as a place to relax and enjoy activities that would be difficult to do at home. I find talking to the children very easy and they have made me feel very welcome, I honestly believe these children and young adults are an asset to our community".
The Hub Youth Club is open for all young people on Wednesday at 6.30 for age 8-14 years and at 7pm on Fridays for Senior Youth Cub.
www.hubylme.co.uk for more information about Youth Club and all the other activities that are at The Hub on a weekly basis.
INVITATION TO DONATE PRODUCTS TO
THE LYME REGIS FOODBANK
Lyme Regis Foodbank will be relaunched in the next couple of weeks. It will open once a week on a Wednesday, 10am -12pm, at the Hub in Lyme Regis (by kind permission of the Lyme Regis Development Trust).
The Foodbank exists to help individuals or families in our community who face a short-term 'food crisis': being without food or means to obtain food owing to temporary financial, medical or social support problems. Managed by LymeForward, it will be run by volunteers.
People in need of emergency help are referred to the Foodbank by responsible organisations such as GP surgeries, the Citizens Advice Bureau, Churches and Chapels, social workers, or health visitors. It will stock non perishable items donated by the community.
The Foodbank is appealing to the generosity of residents between now and the opening date in order to build up sufficient opening stock.
Lyme Regis Foodbank will be collecting donations from 25th April, at:
Lyme Regis Catholic Church
St Michael's Church
Lyme Regis Baptist Church
Uplyme Church
Kent House surgery
Uplyme Post Office
Lyme Regis Tesco
and St Michael's school
Other drop-off points will be publicised over time
A list of suitable items can be found here.
CEREALS
MILK – Semi-skimmed, long life
SUGAR
FRUIT JUICE or SQUASH
TEA BAGS
INSTANT COFFEE
JAM, MARMALADE, HONEY etc
PEANUT BUTTER, MARMITE, SAVOURY PASTE etc
SOUP – Cans / Instant / Cup
Tinned 'MEAT TO HEAT'
Tinned COLD MEAT – Corned beef, spam, ham etc
FISH – Tinned Tuna, Pilchards, Sardines etc
POTATOES – Tinned or Instant Mashed
PASTA
RICE
NOODLES
LENTILS/CHICK PEAS/KIDNEY BEANS - tinned or dry
BAKED BEANS
PASTA SAUCE
TINNED VEGETABLES / TOMATOES
TINNED SPAGHETTI PRODUCTS
RICE PUDDING
TINNED FRUIT
SPONGE PUDDING etc
CUSTARD
BISCUITS – Sweet or savoury
BABY FOOD
Other suitable items include:
NAPPIES
TOILET TISSUE
SOAP – Liquid or bar
TOOTHPASTE
SHAMPOO
WASHING POWDER – Capsules or liquid
WASHING-UP LIQUID
Other ways to help the Foodbank
If you are unable to donate items, but would still like to help the Foodbank, you can do so by:
• making a financial contribution, which we can use for buying products to fill gaps in our donated stock;
• volunteering a bit of your time to join the team at the Foodbank on some Wednesday mornings, or by helping to collect from donation points,
or by helping periodically with necessary administrative jobs (most of which can be done at home).
To offer this sort of help, please contact Heather Prior 01297-441224 / heather@lymeforward.co.uk or
Chris Boothroyd (01297-442237 / chris@caboothroyd.net).
Thank you for your patience and your support.


New Youth Theatre Launched in Lyme Regis
Exeter Northcott and Marine Theatre have joined forces to launch a significant new youth theatre based in Lyme Regis. Starting on 23 April at the Marine Theatre, the Marine Young Company marks a major step forward in placing young people at the heart of the venue.
Exeter Northcott's Lizzie Hedden will lead the tuition with weekly sessions every Monday in term time, culminating in a performance at the venue for friends and family. It is a regular opportunity for 40 young people to make thought provoking theatre together in a professional setting. There are two sessions for different age groups - one for school years 5-7 and another for years 8-11. No previous acting experience is required, and enthusiastic young performers are invited to apply by contacting the Marine Theatre on 01297 442394.
David Harraway, Production Director from Bristol Old Vic, is a trustee of Marine Theatre and one of the driving forces behind the new initiative. "We're so pleased to make this announcement today," he added. "The benefits to young people in the community will be numerous. Many actors start their careers acquiring skills and performing in youth theatre. It's also fantastic for them to work as a team towards a common goal, and see all the tasks in a theatre that are less obvious - from sound engineering to marketing."
Paul Jepson, Artistic & Executive Director of Exeter Northcott, is excited to see the project in motion "It's immensely satisfying to launch the Marine Young Company. Our own youth theatre has been a huge success. It is important for arts organisations to work together so we can share this expertise. This example is gratifying - together we are nurturing the talents of more youngsters in another community."
More information is available on 01297 442394 or marinetheatre.com
Ian Gillan Announced as Patron of the Marine

The Marine Theatre in Lyme Regis has announced Ian Gillan has joined the venue as a patron. The lead singer and lyricist of rock band Deep Purple lives between Portugal and Lyme Regis. He found fame in the 1970s with hard rock hits such as Smoke On The Water, Highway Star, and Child in Time.
When in Dorset, Ian regularly visits the venue for concerts, comedy, and theatre. Ian Gillan explained that he has an interest in supporting all arts, especially regionally. "It's vital that we all support the Marine. It's easy to undervalue arts venues, but they are so important to culture and the community. People can make a contribution is many ways - even simply by turning up. I come when I can."
Ian made clear his passion for the Marine in particular "When you walk through the doors, it feels special. It reminds me of coming through the doors of the Albert Hall. There's a sense of history. It's cool to be here. You can sit in the bar and watch the stage below or climb in to it in the auditorium. One of my favourite events was seeing George Melley."
Looking forward Ian said "I am enjoying seeing it regain its vibrancy. There's a new sense of professionalism and I am pleased to support the venue as a patron."
Gabby Rabbitts, director of the theatre, said "We are delighted that Ian Gillan is our patron. He's a figurehead for musicians, and now for the Marine too. Our patrons act as advocates for the theatre to the wider world, and offer us the benefit of their experience. We can't wait to work with him."
12/02/2018
Twins get together for boules and barbecue
T

he two twinning associations in Lyme Regis that link the town with Barfleur in France and Bermuda got together today (Sunday) in a fund-raising exercise to play boules and enjoy a barbecue.
Some 35 members, their friends and families met at Lyme Regis Football Club where a raffle and a few friendly rounds of the French version of bowls were accompanied by sausages, burgers and talk of plenty of twinning experiences.
Twinners pledge over Brexit

Members of the Lyme Regis/Barfleur Twinning Association have assured their friends in France that the result of the referendum will not change the relationship between the two towns.
In a letter to his opposite number in the Normandy town, chairman of the Lyme Regis committee, John Dover, said: 'Our members wish to make it clear to our friends in Barfleur that this result will make no difference to our twinning arrangements and the warm relationship between our two towns.
'The association is looking forward to welcoming the Barfleurais to Lyme next year.
'Although the referendum has created a great deal of uncertainty about the future direction of our country please reassure your members that 'le jumelage continuera.'…..the twinning will continue.
Ten members from Lyme, including the Mayor Cllr Owen Lovell, recently travelled to Barfleur to join in the town's events marking the 950th anniversary of 1066 when William the Conqueror left Normandy for Britain.
The French celebrations included a reception with the mayor of Barfleur and the presentation of a commemorative medal to Cllr Lovell.
A number of vintage vessels including a replica Viking longboat, tied up in Barfleur harbour Later a drama production was followed by a communal Sunday lunch for all the twinners.

VOLUNTEERS


Our popular RNLI shop in Lyme Regis is

looking for some new volunteers to join a

friendly and sociable team. We really need

your help to keep the shop open and at the

heart of the community.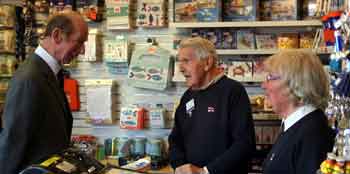 If you could offer any help at all please get
in touch by popping in or speaking to
Amanda Woods 07787842201
Volunteers wanted

for Lyme Regis Regatta and Carnival Committee
Tel. 01297 443696 or 442220
or e-mail Secretary
Have you got time to spare to keep part of Lyme's heritage thriving?

The town's restored 14th century working watermill produces stone-ground flour from local organic wheat and lies within a courtyard complex in the heart of Lyme containing a variety of Artisan Shops, Studios, Galleries and a Millers Garden.
Can you spare a few hours a week or month? We need people to regularly volunteer as millers, staffing the gift shop, stewarding the gallery, and helping out to keep the environment, including the gardens and the courtyard, attractive for our visitors. You'll find that enthusiastic, generous and friendly people make up the community at the mill. As well as being involved with a unique heritage project you will have the chance to meet many visitors from around the globe.
For more information please visit our website www.townmill.org.uk or contact info@townmill.org.uk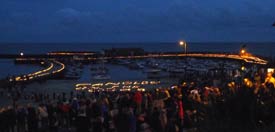 5,000 candles light the Cobb, the North wall and spell 'Candles on the Cobb' on the beach. What an incredible event! The next one will be in August 2018
---
and
Improving out-of-hours medical services

A new evening and Sunday service for patients registered with Lyme Regis and Charmouth Practices opened at Bridport Hospital's Minor Injuries Unit on 19th March.
The service, initially led by Nurse Practitioners helped by Practice Nurses and Healthcare Assistants, is open every weekday evening from 6.30pm to 8.00pm, and offers some weekend clinic sessions.
Its purpose is to offer extra primary care appointments at times when GP surgeries are normally closed, as an extension of the patient's usual general practice. The initial provision will be extended over the first few months, with more hours, and a wider range of services.
This service offers urgent same day appointments and routine appointments, bookable through a patient's own GP Practice. The established Out-of-Hours provision obtainable through 111 continues as before if a doctor is needed urgently. The Minor Injuries Unit at Lyme Regis Medical Centre also continues, open 8.00am - 8.00pm on weekdays and 8.00am - 1.00pm at weekends and Bank Holidays.

Given the distance and transport needs, the new service will not suit everyone. It does, though, offer a useful alternative, particularly for people working during the day. More information is available from the Reception staff at each GP Practice.
Beach wheelchairs improve access to Lyme Regis beach
THE pleasure and freedom of Lyme's sandy beach is now more accessible than ever thanks to two new beach wheelchairs.
Lyme Regis Town Council has bought the wheelchairs in an effort to improve accessibility in the town.
The all-terrain wheelchairs can be hired for free by residents and visitors who have trouble getting onto the beach.
The council agreed to spend £6,000 on the equipment to ensure disabled people had the opportunity to enjoy the sea and sand at Lyme Regis.
The wheelchairs, which are two different types to suit various needs, are available to hire from this week, at no cost to the user.
They were launched on Monday when seven-year-old Oli Apps, from Uplyme, and Vicci Stocqueler, from Lyme Regis, had the opportunity to take them onto the beach and to the water's edge for the first time.
Oli, a pupil at Mountjoy School in Bridport, has never walked and has been in specialist buggies or a wheelchair since he was born.
Mum Kelly Apps said the beach wheelchair would make a huge difference to their family, including Oli's five-year-old sister Madi.
Kelly said: "The wheelchair will make the beach much more accessible and allow us to be a normal family.
"Madi wants to play with her brother, she's really proud of him, so it means we can come down to the beach as a family.
"I love coming to the beach but it's not been fun in recent years because of the limitations.
"The wheelchair will give Oli the opportunity to have an experience that an able-bodied person can have."
For Vicci Stocqueler, 49, it was the first time in 12 years she was able to go to the water's edge and paddle in the sea due to her limited mobility.
She said: "I don't go to the beach that often because it's too difficult, but I really would love to.
"I used to swim all year round, but just to have a paddle would be lovely.
"The wheelchair would even be good for older people who aren't in a wheelchair but aren't very steady on their feet.
"It will give people the confidence to venture to the edge of the water."
Cllr Richard Doney, vice-chairman of the council's Tourism, Community and Publicity Committee, is spearheading the council's efforts to improve accessibility in the town.
He said: "I am delighted that we are able to offer this free service. It will enable our visitors and residents who find it difficult to get on the beach, the opportunity to enjoy one of Lyme's key attractions.
"This is the first step in an aspiration to make Lyme more accessible to people with disabilities and impairments. We shall never get rid of Lyme's hills but there are many other things we can and should do.
"People with disabilities want to know that they won't be embarrassed or inconvenienced if they come to Lyme, so this is what we should be aiming to ensure."
The wheelchairs can be booked in advance through the tourist information centre and collected from the Jubilee Pavilion information point on the seafront.
They can also be hired on the day if they have not been pre-booked.
To pre-book, contact the tourist information centre on 01297 442138 or email lymeregis.tic@westdorset-weymouth.gov.uk.
For more information about the wheelchairs, including a booking form and terms and conditions, as well as general information about accessibility in Lyme Regis, visit www.lymeregis.org/accessibility.
Ichthyosaur discovered near Lyme Regis
After months of patient work the fossils of an Ichthyosaur discovered on the Jurassic Coast near Lyme Regis were carefully laid on a pontoon to be towed on the morning tide into Lyme Regis harbour on 20th October. Word quickly spread and people gathered to see the pieces harbouring fossils of a creature which had been hidden in the nearby cliffs for around 160 million years.
This was a find worthy enough to attract a visit by naturalist Sir David Attenborough and a BBC film crew the previous day. However we shall have to wait a year or so to see the finished programme on television.
Great British Beach Clean in
Lyme Regis
Litter Free Coast and Sea's support of the Marine

Conservation Society's Great British Beach Clean in Lyme Regis encouraged many local people to come and help.
An area of Monmouth beach was divided into zones where detailed information about the size and type of debris collected between the tide lines was noted by small teams. This data will be collated and compared against previous years, it also helps discover where the litter is coming from and gives the evidence to help stop it from ever getting there in the first place: an essential part of cleaning up our oceans.
Then, covering a much larger area of Monmouth Beach, the litter pickers found not only the most common rubbish consisting of fishing lines, plastic bottles, sweet wrappers and disposable BBQs but: a jacket, a pair of trousers, two tops, a pair of knickers, a shoe and two (odd) socks.
All of these can pose a serious threat to sea and shore life: plastics can last for hundreds of years in the sea, harming wildlife and threatening livelihoods . Every little bit that is removed will make a difference for a long time to come. This is particularly relevant locally as a sick dolphin and a dead seal have been found in the Lyme Regis area recently. Whales, dolphins and turtles can mistake floating plastic bags for the jellyfish which form part of their diet. Once swallowed, the plastic bag blocks the stomach and leads to a slow death through starvation.
It is hoped these beach cleans raise awareness of just how much of a problem marine litter is and that everyone goes home with a better understanding of how they can help.
Krys Lavery, the Lyme Regis Litter free Coast and Sea Leader, would like to thank everyone who took part. For further information about future Litter Free coast and Sea events (no bending – litter picker-uppers provided!) please contact Krys: e-mail rnli1824@btinternet.com

<![if !vml]>
<![endif]>
'Use It or Lose It!' Exercise class for 50+

A mixture of cardio, Zumba, Pilates, yoga, balance & strengthening exercises all to music! No need to bring anything. Just wear comfortable clothing, trainers & a water bottle. Tuesdays & Thursdays 9:30am Masonic Hall, Lyme Regis. £5 PAYG contact Helen French 07725 465 360.

Lyme Regis Brownies
Wednesdays 5.30 - 7pm St Michaels School Hall Tel 07756 593811
Tae Kwon-Do
The Tae Kwon-Do Association of Great Britain (TAGB) has been established for 30 years and has over 20,000 members learning tae kwon-do in more than 600 venues. Classes are now being held twice a week at The Hub, Church Street, Lyme Regis (bottom of Charmouth Road, just up from Marine Theatre). Convenient for shops, beach, bus stops (Broad Street or Anning Road) and local schools. Every Tuesday and Wednesday afternoon at 4.30pm. They will suit any ability and are not just for children! Teaching traditional tae kwon-do as a martial art and not a sport. Part of the Tae Kwon-Do Association of Great Britain, established in 1983 and now with over 600 schools nationwide. Family group discounts and free trial. Additional classes available in other local towns at no extra cost. www.TargetTAGB.co.uk There are no contracts and family group discounts will be available. Telephone Gerry on 01297 639830.
Kickboxing at The Hub
Held every Thursday evening between 8pm-9pm. Classes are suitable for both adults and children and are great for fitness, self defence, weight loss and confidence. £5 per session, no contracts or direct debits. Telephone Gareth, 1st Dan Instructor on 07833 157436 or email diane@lrdt.co.uk. www.hublyme.co.uk
The Hubs' Toddlers
Meet every Thursday at The Hub, Church Street, Lyme Regis between 9.30-11.30. An informal, friendly session for parents and toddlers to meet and socialise. Refreshments available for a small donation. Lots of arts and crafts to do, ride-ons, slide and soft play-mats for babies to relax on. £1 per child. Contact Shelly on 07734 115138 or email diane@lrdt.co.uk. www.hublyme.co.uk

Lyme twinners join Barfleur liberation celebrations
Fifteen members of the Lyme Regis/Barfleur Twinning Association crossed the channel at the weekend to join hundreds of French families as they celebrated the 70th anniversary of the Normandy town's liberation.
It was 70 years to the day on Saturday that American troops drove into town to free the Barfleurais from Nazi occupation.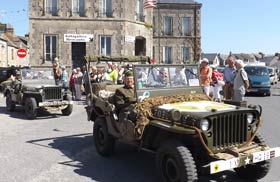 And just as on June 21st 1944 a convoy of American jeeps, sirens wailing and horns blaring, drove through the streets of Barfleur to the harbour to a tumultuous welcome. Only this time the jeeps were driven by French members of a local military vehicle preservation club in full American uniform.
The Lyme Regis group were invited to spend the weekend joining the celebrations and staying with local families, who are members of the Barfleur Twinning Association. As they arrived last Friday they were met at the harbourside of the French fishing port by flag-waving members of the Barfleur association.
Highlight of the weekend was Saturday, a day of ceremony, celebration and solemnity.
Hundreds, including the Lyme Regis group, with Richard Doney as standard bearer, attended an outdoor thanksgiving service at St. Nicolas church alongside the harbour. In his address the Mayor, Michel Mauger, welcomed the Dorset contingent and praised the town's American liberators along with British and Canadian troops.
Saturday's events continued with a a classic car parade – including Lyme Regis twinner Sheila Poupard and Mike Overfield-Collins in Sheila's 1963 Sunbeam Alpine sports car.
Then there was music from a local band, visits to the historic lifeboat station, which was the first in France in 1865, an open air dance and a celebration meal for twinners to round off the day.
Lyme Regis twinning chairman John Dover told dinner guests how hundreds of U.S. troops were based in the Dorset town in advance of D-day. He said it was an honour for Lyme Regis to share the liberation celebrations and it was 'fitting and appropriate' that both communities were now joined in a new partnership of friendship.
Next event planned by the Lyme Regis twinning group is a barbecue and boule afternoon to mark Bastille Day in the chairman's garden in Somers Road. The event, starting at noon on Sunday July 13th, is to raise funds for the association. Anyone interested in attending should contact jonner_dover@hotmail.com or call 07769 655362.

Download Latest Newsletter and membership form

Now it's official... Lyme Regis has a twin in France

In a very English ceremony involving two mayors, macebearers, and a town crier the twinning of Lyme Regis with the Normandy town of Barfleur was literally signed and sealed.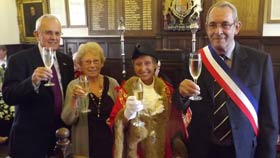 A beautifully crafted charter on hot pressed goat skin parchment was signed by Lyme Regis Mayor Councillor Sally Holman and the Mayor of Barfleur M. Jean Deville in the historic Guildhall to formally cement the link between the two towns. The signatures of the chairman of the Lyme Regis/Barfleur Twinning Association, John Dover and his opposite number from Normandy, Mme Cristiane Gancel were also added. Then wax was applied using the centuries old town seal usually kept under lock and key in the museum.
Seven residents of Barfleur crossed the channel to Lyme Regis for two days of celebrations to mark the twinning. Highlights included a tour of the renowned Boat Building Academy, a visit to St. Michael's primary school and the opening of ArtsFest.
During the ceremony Councillor Holman said the two ancient maritime communities had played significant parts in the development of both nations over the past thousand years. She said it was from Barfleur in 1066 that William the Conqueror, Duke of Normandy, departed to defeat Harold at Hastings. And Edward 1st granted Lyme Regis its royal charter in 1284. During his son's reign Edward 2nd sacked Barfleur in 1346 maintaining English rule in that area for another century.
John Dover said he was confident that many organisations and individuals in both communities, beyond the work of the twinning committees, would cement mutually beneficial ties. After the guildhall ceremony there was a visit to one of the town signs to view the addition of Barfleur. After a celebration dinner at the Mariners Hotel, the Barfleurais left for home on Sunday morning.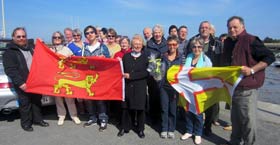 Discover more about future plans and 'entente cordiale' with our new twin town Barfleur, Normandy -
For more information about the Twinning Association contact John Dover on 07769655362; email jonner_dover@hotmail.com (please note the underscore) or Download Latest Newsletter
and membership form
March 2013: Fantastic New Fossil Find: The Lyme Bay Ichthyosaur!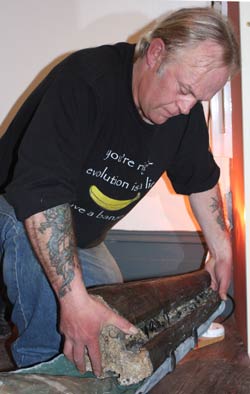 The Lyme Regis Museum announces the arrival of its fantastic new fossil – The Lyme Bay Ichthyosaur. The museum has acquired the fossilised head of this impressive Jurassic predator – a large dolphin-like reptile that swam the warm seas of prehistoric Dorset. The skull measures over 1.5 metres long and possessed a formidable armoury of razor sharp teeth.
Lyme Regis is the home of palaeontology and the place where Britain's greatest fossil hunter, Mary Anning discovered the first ichthyosaur and plesiosaur in the early 19th century. The town is situated at the heart of the Jurassic Coast, England's only Natural World Heritage Site. Museum Director David Tucker said, "This species of ichthyosaur, called Temnodontosaurus platydon is the same species as the first great ichthyosaur discovered by Mary Anning 200 years ago. Mary Anning's fossil is in the Natural History Museum, and Lyme Regis has waited two centuries to obtain a similar, large specimen. The fossil was discovered within metres of the museum. It's important that museums along the Jurassic Coast are able to display the amazing fossil treasures that are still being found along the coast". The fossil was found by local collector, Mike Harrison and was purchased for the museum with the support of the Heritage Lottery Fund and Prism Grant Fund. Lyme Regis Museum is built on the site of Mary Anning's house and was founded in 1902 by the family of Elizabeth Philpot, Mary Anning's friend and significant fossil hunter in her own right. The museum has featured on 'Countryfile' and runs fossil walks, led by expert geologists giving visitors a chance to find their own Jurassic Coast treasures.
Recycle those unwanted Gifts

Please Donate them to:

RNLI Shop, The Cobb:



Weldmar Hospice Shop, Broad Street:

Jumble Sales