MONDAY 1 APRIL

SCREENING: MET OPERA: DIE WALKURE
From New York's MET—featuring the famous Ride of the Valkyries—Die Walküre is the second of the four operas that comprise Wagner's Ring cycle, a story of monsters, gods, and humans on a superhuman scale. Enjoy a delicious two course supper in the interval for £15 including a glass of wine or half pint of beer. 4 P.M. £5 under 18s / £15 adult advance or on the door / £15 supper (advance only) www.marinetheatre.com
TUESDAY 2 APRIL 2019


BARFLEUR AND LYME REGIS TWINNING ASSOCIATION ANNUAL GENERAL MEETING
The Twinning Committee welcome all members, existing and new, to our AGM TO BE HELD AT 2 PM at THE GUILDHALL LYME REGIS
Wednesday 3rd April 2019

Lyme Regis and Charmouth Lifeboat Guild Annual General Meeting
Following the business of the meeting we will have a talk from our guest speaker: Steve Hockings-Thompson - Cox of Exmouth Shannon ALB. All are welcome to attend and we look forward to seeing you there. 7.30 pm. at the Lifeboat Station
Thursday 4th April 2019
Last Day Lyme Residents Free Parking Permit Winter Times apply


CINEMA: THE FAVOURITE
Olivia Colman won an Oscar for her portrayal of Queen Anne in this extraordinary comedy drama. ★★★★★ 'A brilliantly acted film that's funny, clever and heartbreakingly sad' ~ The Daily Mail Cert. PG. Duration 119 minutes 7:30 P.M. £6 advance / £7.50 on the door www.marinetheatre.com
Friday 5th April

2019

End of Term

Cancer Research UK Big Breakfast
Full English (egg, sausages, bacon, beans, tomato and hashbrown) including orange juice, toast and preserves, tea/coffee for £6. Bacon roll or sausage sandwich £3. Vegetarian option available. The Woodmead Halls 8 am to 12.30pm
Please support and help the Lyme Regis Branch top the £160,000 we have raised since formation in 2008

MUSIC: JULIE FELIX
An international folk artist of great distinction, who many will remember for her television appearances with David Frost in the sixties. Part of the great folk movement with Joan Baez, Bob Dylan and Leonard Cohen, her rich, distinctive voice has ensured success through to the present day. With support. 8 P.M. £14 advance / £16.50 on the door www.marinetheatre.com


SATURDAY 6 APRIL

TALK: HISTORIES OF THE UNEXPECTED
Join Sam Willis, presenter of BBC's The Silk Road and Invasion!, and James Daybell, one of the country's leading professors of history, as they show us a new way to think about the past. 'History as you've never seen it before' ~ Dan Snow 7:30 P.M. £10 children, £14 adults advance / £12 children, £16 adults on the door www.marinetheatre.com
TUESDAY 9 APRIL


Medical Services in Lyme Regis and Charmouth: PATIENT INFORMATION EVENT
Regarding Medical Services in Charmouth and Lyme Regis: This event will cover the new arrangements for community services across Lyme and Charmouth, as well as the two Lyme GP Practices, so it is open to all, whether registered at the Charmouth Practice, Kent House or Lyme Regis Medical Centre.
We understand that everyone will have the chance to meet, on an individual basis, staff leading the developments for the GP services and community services, as well as CCG officials.
This event is emphatically not simply about receiving information. It is an opportunity, before the new services begin in June, to speak directly to the people who will be providing those services and to explain what is important to you. It's not quite a case of "Speak now or forever hold your peace", for we can always speak to our medical contacts; but now, before things settle down, is the best chance to influence what happens. N o n e e d t o b o o k - j u s t t u r n u p a n y t i m e b e t w e e n 2 p m - 6 : 3 0 p m Woodmead Halls


CINEMA: TUESDAY NIGHT AT THE MOVIES: SOME LIKE IT HOT
Marilyn Monroe, Tony Curtis, Jack Lemmon star: two unemployed musicians have the misfortune to witness the St. Valentine's Day Massacre. Their instant escape plan, involving a change of clothes and an all-girl band, should work – but lead singer Sugar Kane (Monroe) is quite the distraction. Cert. PG. Duration 120 minutes £6 advance / £7.50 on the door www.marinetheatre.com
Wednesday April 10th 2019
Coach Trip to 'Sculpture by the Lakes' Dorchester
Nestling in 26 acres, visitors will find an impressive range of outdoor sculptures in the setting of beautiful gardens, hailed as a modern arcadia. The garden's design has been inspired by ideas from all over the world and wildlife is also an important element. The sculptures are placed in simple, effective settings for drama and several emerge from the water. There are 30 of Simon Gudgeon's works on display including Isis, which is also in London's Hyde Park.
Some of Simon's smaller pieces can be seen and purchased in the Gallery. The Gallery Café serves light lunches. Cost £16 for members, £19 for non-members. Coach departs Uplyme Village Hall at 9.30am. Please ring Rose Mock 01297 34733 to book. Uplyme and Lyme Regis Horticultural Society
The fire in the Cathedral Yard, Exeter


An illustrated talk by Dr Todd Gray. The fire that gutted the Royal Clarence Hotel in Exeter horrified people all over the country. Dr Todd Gray – a specialist in the history of Exeter will be speaking about the historical implications of the fire and what it revealed. Coffee from 10.00-10.45 followed by talk at 11am -12 noon. Venue: Woodmead Halls, Hill road, Lyme Regis DT7 3PG. Organised by U3A Heritage Coast Lyme Regis – free for members, non-members £2 donation suggested. To join U3A, see website www.lymeregisu3a.org or tel 01297 444566

CINEMA: THE GREATEST SHOWMAN SING-ALONG
Join us for this sing-along special in the Easter Holidays. Hugh Jackman stars in a story of a visionary who rose from nothing to create a spectacle that became a worldwide sensation. Cert. PG. Duration 105 minutes. 2 P.M. £4.50 advance and on the door www.marinetheatre.com

THURSDAY 11 APRIL


SCREENING: NT LIVE: ALL ABOUT EVE
Gillian Anderson and Lily James star in this London staging of Oscar-winning 1950 film of jealousy and ambition. Screened live from the Noel Coward Theatre with original music score by PJ Harvey.
Certificate 12A ★★★★ 'An acting masterclass from Gillian Anderson' ~ Financial Times £5 under 18s advance or on the door / £11 adults advance / £14 on the door Bar opens 6 P.M. Starts 7 P.M. www.marinetheatre.com
FRIDAY 12 APRIL


CINEMA : BOHEMIAN RHAPSODY
Winner of 4 Oscars, this is the story of the legendary rock band Queen and lead singer Freddie Mercury, leading up to their famous performance at Live Aid. £6 advance / £7.50 on the door Bar opens 6:30 P.M. Starts 7:30 P.M www.marinetheatre.com
Saturday 13th

"Know your Blood Pressure Day"


Annual event run by the Rotary Club of Lyme Regis in conjunction with The Stroke Association. Pop into Fortnam, Smith and Banwell (Estate Agents) 53 Broad Street and have your blood pressure monitored by trained local nurses. This is one of the most effective ways of minimising the chances of a stroke. See link..........and see you there!! www.stroke.org.uk

SUNDAY 14 APRIL

MUSIC: THE SUNDAY SESSIONS WITH MATT BENJAMIN
This free entry post-roast music session in our lovely bar overlooking the Cobb. Guitarist Jack Harrison and cellist Matt Benjamin headline act, presenting other talented guests from the local music scene. Bar opens and starts at 3 P.M. Free entry, no tickets www.marinetheatre.com
TUESDAY 16 APRIL

CINEMA: MARY POPPINS RETURNS
Decades after her original visit, the magical nanny returns to help the Banks siblings and Michael's children through a difficult time in their lives. Cert. PG. Duration 130 minutes. £4.50 advance and on the door Bar opens 1 P.M. Starts 2 P.M. www.marinetheatre.com
WEDNESDAY 17 APRIL

S

CREENING: RSC LIVE: AS YOU LIKE IT
'Come into the forest; dare to change your state of mind.' Shakespeare's comic masterpiece is broadcast live from Stratford-upon-Avon. £5 under 18s advance or on the door / £11 adults advance / £13.50 on the door Starts 7 P.M. www.marinetheatre.com

THURSDAY 18 APRIL



CINEMA: STAN & OLLIE
Starring Steve Coogan and John C. Reilly, Laurel and Hardy, the world's most famous comedy duo, attempt to reignite their film careers as they embark on what becomes their swan song – a gruelling theatre tour of post-war Britain. Certificate PG. Duration 97 minutes £6 advance / £7.50 on the door Starts 7:30 P.M. www.marinetheatre.com
Friday 19th




Sale of Bric-a-Brac Cakes and other Goodies, Books to Browse.
All proceeds are in aid of Branch Funds, The Poppy Appeal and the RNLI: support your local LYME REGIS BRANCH OF THE ROYAL BRITISH LEGION 10am - 3.30pm The Shelters, Marine Parade, Lyme Regis More info contact: LymeRegis.chairman@rbl.community

MUSIC: THE STONES
This is the UK's No.1 and most authentic tribute to The Rolling Stones, bringing all the hits to the Marine's stage, including 'Satisfaction', 'Jumping Jack Flash', and 'Brown Sugar'. The band regularly tours in Belgium, Germany, and Spain and has played to audiences of 30,000. £12 in advance / £14 on the door Bar opens 7 P.M. Starts 8 P.M. www.marinetheatre.com
SATURDAY 20 APRIL


xCOMEDY: LYME REGIS COMEDY CLUB WITH CHRIS MCCAUSLAND
This month's headliner is a stand-up comedian and actor from Liverpool and star of Live At The Apollo. Suzy Bennett, winner of the Funny Women Award, and Andrew White are also on the bill in this great value night out. Resident compere Tom Glover hosts. 'A naturally funny person. Very funny indeed.' ~ Jimmy Carr on Suzy Bennett £8 advance / £10 on the door Starts 8 P.M. www.marinetheatre.com
Sunday 21 April 2019 Easter Sunday
Easter Bonnet Parade 2019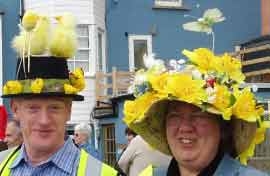 Make an Easter Bonnet or just enjoy the spectacle of people in the parade wearing their Easter Bonnets.

Easter Bonnets gather 14.00 at the Baptist Church, Broad Street.

EASTER BONNET PARADE
15.00 from the Baptist Church, Broad Street, led by the Mayor finishing at the Jubilee Pavilion on the Marine Parade sea front. Majorettes form part of the parade.
Monday 22nd Easter Monday Bank Holiday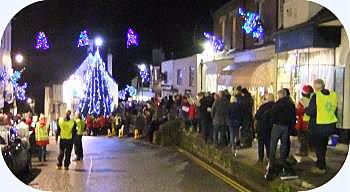 Duck Race


Down the River Lym, In aid of Lyme Regis Christmas Lights. Ducks available from 11.30am on the day at Windsor Terrace (bottom of Woodmead Road). Race starts from there 12 noon.



Tuesday 23rd April St Georges Day




CINEMA: TUESDAY NIGHT AT THE MOVIES: A MAN FOR ALL SEASONS
Henry VIII needs a new wife and heir; Sir Thomas More, the new Catholic Lord Chancellor, has to weigh his conscience against his life. Commercially and critically successful, this film won 6 Oscars and 6 Baftas. Certificate U. Duration 120 minutes £6 advance / £7.50 on the door Starts 7:30 P.M. www.marinetheatre.com
Wednesday April 24th 2019

Demonstration 'Hanging baskets' by Mark Bugler from Groves Nursery
A practical demonstration of how to plant up four hanging baskets by Mark Bugler from Groves Nursery. Competition. Also at the April meeting will be the Chairman's spring-flowering bulb competition. There are two classes: · Pot or container of flowering bulbs, corms or tubers growing in the pot/container · Vase/container of cut flowers grown from bulbs, corms or tubers. Bring along your entries to Uplyme Village Hall on the night from 7pm. Plug plants to grow on for the Summer Show will be available free to members courtesy of Groves Nurseries. Everyone is welcome. Demonstration starts at 7.30pm, Uplyme Village Hall. Refreshments are available from 7.15pm. Members free; non-members £3. Uplyme and Lyme Regis Horticultural Society
THEATRE: TRANSPORTER

For ages 11 to adult, this is a story of a girl called Maya on a never-ending search for the last safe place on earth. Presented by Theatr Iolo & The Riverfront. £10 advance / £5 advance students / £12 / £6.50 students on the door Starts 8 P.M. www.marinetheatre.com
FRIDAY 26 APRIL

Annual Town Meeting
The Annual Town Meeting is not a council meeting. It is a meeting of the town electors and often involves the town council's partners such as Dorset Police and both West Dorset District Council and Dorset County Council. Local organisations who have benefited from council grants are invited to provide a report on their activities and all electors are entitled to attend and ask questions or raise issues.
The Town Council will give notice of the meeting through the local press and staff will be happy to advise on the best way of getting items on to the agenda.
The Annual Town Meeting is at 7pm in the Woodmead Halls, under the chairmanship of the deputy mayor, Cllr Steve Miller. Residents and non-residents are entitled to attend the meeting and to raise for debate any issue concerning the town. Priority will be given to questions notified in advance to the town council offices, by post or email admin@lymeregistowncouncil.gov.uk

THEATRE: POSTING LETTERS TO THE MOON
This special event is the reading of wartime letters between Oscar-nominated actress Celia Johnson (Brief Encounter) and her husband Peter Fleming. They are read by their daughter Lucy Fleming with Simon Williams, both actors in The Archers. £12.50 advance / £15.50 on the door + 50p restoration levy. Starts 8 P.M. www.marinetheatre.com
Saturday 27th & Sunday 28th April 2019

Great Dorset Beach Clean:
Come and join us on our FREE Great Dorset Beach Clean at Lyme Regis and Charmouth! Help clean up your local beach and make it a much safer place for wildlife and us.
The annual beach clean-up returns as part of the 'Litter Free Coast and Sea' week! Bring your friends and family and lend a hand at any of the designated beaches. Please wear suitable clothing and shoes for the conditions: Help to remove plastics and other rubbish from the shore. The vast majority of litter found on Dorset's beaches is made of plastic, which steadily accumulates if not removed. As standard plastics never degrade, they circle around the world in ocean currents and can cause long-term damage. Whales, dolphins and turtles can mistake floating plastic bags for the jellyfish which form part of their diet. Once swallowed the plastic bag blocks the stomach and leads to a slow death through starvation.
Saturday 27th Charmouth We will meet at 3pm at the bottom of Charmouth Heritage Centre steps.
Sunday 28th Lyme Regis: Meeting point & Briefing by the slipway near the Cobb, for a 10 a.m. start. Bags, buckets and picker-uppers supplied to give Monmouth beach a spring clean.

Stay for as much or as little as you like! All equipment is provided. All children need to be accompanied by an adult. No need to register, just turn up on the day! Please wear suitable footwear and clothing for the weather.

SATURDAY 27 APRIL

MUSIC: ALABAMA 3 ACOUSTIC
A blend of country, blues, and acid house, from the band famous for recording the theme to The Sopranos. With support. £15 advance / £17.50 on the door Bar opens 7 P.M. Starts 8 P.M. www.marinetheatre.com
SUNDAY 28 APRIL

MUSIC: JAZZ IN THE BAR: CELEBRATING MILES DAVIS
This special edition of our regular jazz night focuses on the American trumpeter who became one of the most influential figures in music, partly due to 'Kind of Blue' - the most popular jazz record of all time. £8 advance / £12 on the door Starts 8 P.M. www.marinetheatre.com

---