Wednesday 1st 2023 St David's Day
Saturday 4 March
Turn Lyme Green will hold their annual Lyme Regis Seed Swap

All are invited to the Pine Hall at The Baptist Church, at the top of Broad Street, Lyme Regis, from 11.30am to 1.00pm.

Entry is free and refreshments including home made cakes will be available. Suzy Gallina, the co-ordinator, says "The seed swap is free, and you don't have to bring seeds to swap!

We want as many people as possible to grow food and to get into gardening."
Tuesday March 7th 2023

COACH TRIP NT Greenway House and Garden
departs 9.15am. Agatha Christie's holiday home with many collections inc. Tunbridge ware, silver, botanical china and books. Woodland garden, restored peach house and vinery, wild edges and rare plantings down to the River Dart. Cafe serves light refreshments. 35 places max. NT members £14 Non-NT £22. www.ulrhs.wordpress.com
Wednesday 8th March 2023 International Women's Day
Friday 17th 2023 St. Patrick's Day
Sunday March 19th 2023 Mothering Sunday
Monday 20th March 2023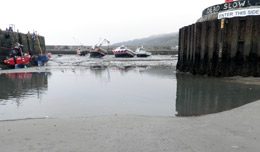 Vernal Equinox The Spring Equinox is the first day of spring and occurs when the sun passes the equator moving from the southern to the northern hemisphere. The sun is directly overhead at the equator and day and night are of approximately equal lengths. At equinox, the Sun rises everywhere on Earth (except the Poles) at about 6am in the morning and sets at about 6pm in the evening (though this can vary a little when time zones and daylight saving etc
are taken into account).
Tides along the Lyme Regis coast are among the lowest of the year
Tuesday 21 March.

Turn Lyme Green TALK
Source to Sea: featuring the famed chalk River Itchen

A freshwater ecologist inspired by the journey of the Itchen,
GRAHAM ROBERTS
will illustrate what we can learn from steps taken to protect this precious chalk river and the pressures on it. Driftwood Cafe, Baptist Church (top of Broad Street) 7pm All welcome. Refreshments available
Turn Lyme Green
March 22nd Wednesday 2023
DEMONSTRATION. Mark Bugler shows us how to plant up a magnificent spring

hanging ball which includes violas – our featured plant this year. Free plug plants available to grow on for the summer show. 7.30pm, Uplyme Village Hall. Refreshments from 7pm. Members free; guests £3. www.ulrhs.wordpress.com
FRIDAY 24 MARCH 2023

XHOSA COLE -
Multi-award-winning sax player, Xhosa Cole, explores the music of jazz titan


Thelonious Monk. With his new ensemble, Rhythm-a-ting, this show fizzes with energy and humour.
This is a must for all jazz fans - world class music on your doorstep! Marine Theatre, Lyme Regis, 8pm. Seated www.marinetheatre.com
Saturday 25th 2023 British Summer Time begins tomorrow morning: Put your clock forward one hour before you go to bed
Sunday 26th British Summer Time has begun - have you changed all your clocks? - it may be later than you think
Tuesday 28th March 2023
The Lyme Regis Society
presents
A Talk:
'Crossing the Severn'
by
Brian Margetson
at 2pm
Woodmead Halls, Hill Road, Lyme Regis. DT7 3PG
All Welcome. Members Free. Visitors £3.00.
31st March 2023 Residents Winter Parking concession ends 31st March 2023


Last Day of Term
---