Tuesday 1st 2022 St David's Day Shrove Tuesday: Pancake Day
Tuesday 8th March 2022 International Women's Day

THURSDAY 10 MARCH 2022
CHRIS WOOD


Chris Wood is an uncompromising folk singer songwriter whose music reveals his love for the un-official history of the English speaking people. With gentle intelligence he weaves the tradition with his own contemporary parables. In a world of soundbites and distractions Chris Wood is a truth seeker. His writing is permeated with love and wry intelligence, uplifting and challenging as he celebrates the sheer one-thing-after-anotherness of life. Tom Robinson and Chris Difford are fans while Stick In The Wheel and The Unthanks look to him as an influence. £14.00 advance | £17.00 on the door | 10% discount for members www.marinetheatre.com

Monday March 14th

Soup & Ploughman's Lunch


An annual event held in the Alexandra Hotel Lyme Regis.
Vegetarian soup followed by a Ploughman's lunch then coffee in the lovely surroundings of the Alexandra Hotel. 12pm prompt. Tickets from local Rotarians
Tuesday 15th March 2022

The Lyme Regis Society present A Talk:
'World Heritage; what went wrong for Lyme Regis' by Richard Edmunds.
Although we have an excellent, and recently improved museum, it does not and simply cannot do justice to the astounding fossil heritage for which Lyme Regis is so rightly famous. And those fossils are the jewel in the crown for the Jurassic Coast World Heritage Site but how did this astounding designation fail to deliver what the Site really needs and really has to offer? 2pm Woodmead Halls, Hill Road, Lyme Regis. DT7 3PG All Welcome. Members Free. Visitors £3.00.
Thursday 17th 2022 St. Patrick's Day


SATURDAY 19 MARCH 2022
LYME REGIS COMEDY CLUB WITH SEAN MCLOUGHLIN
Our monthly bargain comedy event returns with an impressive headliner; Sean McLoughlin supported Ricky Gervais on tour and was described as "The best comedian" by Time Out and "an impassioned and uniquely brilliant talent" by The List. Support is from Andy White and Riordhan DJ, while Tom Glover returns as compere. £12.00 advance | £15.00 on the door | 10% discount for members www.marinetheatre.com
Sunday 20th March 2022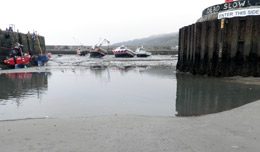 Vernal Equinox The Spring Equinox is the first day of spring and occurs when the sun passes the equator moving from the southern to the northern hemisphere. The sun is directly overhead at the equator and day and night are of approximately equal lengths. At equinox, the Sun rises everywhere on Earth (except the Poles) at about 6am in the morning and sets at about 6pm in the evening (though this can vary a little when time zones and daylight saving etc
are taken into account).
Tides along the Lyme Regis coast are among the lowest of the year
March 23rd Wednesday


Gardeners' TALK. 'Nature in the Garden' by Paul Rendell.
The Uplyme & Lyme Regis Horticultural Society is resuming in-person talks from Wednesday March 23rd at Uplyme Village Hall at 7.30pm.

The speaker is Paul Rendell, known as 'Dartmoor Paul' and his topic is 'Nature in the Garden'. In this talk Paul explores the wild animals, birds and creatures to be found in the garden; some easy, others well hidden. He will look at how you can encourage the good guys in your garden. Paul's books will be on sale at the event.
Paul has been a Dartmoor guide for over 20 years and is a wildlife expert. He originally trained as a chef and later a gardener, becoming Head Gardener at Devonport Dockyard. In 2011 he started working for the Dartmoor Pony Heritage Trust leading walks and undertaking conservation work. As well as being a Dartmoor National Park guide for over 21 years, Paul is now a member of the Moorland Guides.
Members will also be able to collect their free plug plant to grow on for the Summer Flower and Produce Fair. This year the plant is Argyranthemum, or marguerite, a daisy like flower with attractive feathery foliage. Doors open at 7pm for refreshments. Members free; guests £3.. 7.30pm, Uplyme Village Hall. www.ulrhs.wordpress.com
FRIDAY 25 MARCH 2022
JOHN SMITH Guitarist John Smith was born in Essex and raised on the Devon seaside. Known for his intimate song-writing, his honey-on-gravel voice and pioneering guitar playing, he has spent the last fifteen years touring internationally and has amassed over 40 million streams on Spotify. As a session musician he has played guitar with artists as diverse as Joan Baez, David Gray, Joe Henry, Lianne La Havas and Tom Jones. £16.00 seated advance / £16.00 standing advance / £20.00 on the door 10% discount for members
www.marinetheatre.com
Saturday 26th 2022 British Summer Time begins tomorrow morning: Put your clock forward one hour before you go to bed
Sunday 27th Mothering Sunday
British Summer Time has begun - have you changed all your clocks? - it may be later than you think
31st March 2022
Residents Winter Parking concession ends 31st March 2022

---
For up-to-date information don't forget to 'reload' or 'refresh' these pages each visit

Residents Winter Parking concession ends
31st March 2022

Dogs
Dogs need to be on a lead all year on


Marine Parade, Cart Road, Gun Cliff, Church Cliff Walk, the Harbour, the Cobb, Lister & Langmoor Gardens

Lyme Regis's front beach:
Dogs are banned
from 1st May until 30th September;
on a lead the rest of the year

Dogs allowed all year
Monmouth Beach, Cobb Gate & East Beach.

Charmouth Beach:
no dogs from 1st May to 30 September.

Dog waste must be cleared up and disposed of properly and dogs must be under the handler's control at all times. Failure to comply may result in a fine or prosecution.
Please check notices locally to verify this information
What's on in the Galleries

Paintings by Dianne Mary Alice
19 January until 6 March
the Rotunda Gallery, Lyme Regis Museum

Dianne Mary Alice is a professional artist who came to be living by the sea in Dorset via West London and the French canals. She started taking art classes after retiring from a career in fashion, textiles and garden design. An Artist's Journey is her first solo exhibition, and it runs from 19 January until 6 March at the Rotunda Gallery, Lyme Regis Museum.
Dianne's impressionistic and spontaneous approach captures images and forms from the natural world experimenting with all mediums, usually using a palette knife and just a few colours. Her inspiration comes from big skies, landscapes, plants, flowers and the sea. Sketches and line drawings are done plein air when possible, often moving on to underpainting in acrylic and ending with oil. She started exhibiting three years ago with Dorset Arts Weeks and belongs to Lyme Bay Arts, Artwey and Casterbridge Art societies.
For further information about opening days and times, please visit www.lymeregismuseum.co.uk.
Every Breath We Take
Paintings by Christine Allison
Rotunda Gallery, Lyme Regis Museum
This exhibition is Dorset artist Christine Allison's tribute to the planet's most important and too often undervalued resource: trees. As Christine says, "Now more than ever we need to take notice of the trees we have around us. These wonderful growing organisms are our second pair of lungs, our ventilators and our lifesavers. I am celebrating the trees around me in my paintings and drawings. I want people to wake up and notice our trees, to pay attention and care for those we have and plant more everywhere. This Easter I pledge to plant even more trees from the sales of paintings in this exhibition."

For the opening times of Every Breath We Take, please visit www.lymeregismuseum.co.uk, and for more information on Christine's work, go to www.christineallison.com.
Lyme and the Sea,
our Community Play,
tickets now on sale.

In Lyme Regis, there's a strong tradition of Community Plays that dates back to the 1970s. In recent years, successes include 'Tempest of Lyme', 'Monmouth: A West Country Rebellion' and 'Are you Going to the Marine?' .
Screenwriter and Marine patron Andrew Rattenbury has done it again: Lyme and the Sea is a celebration of our town's enduring relationship with the sea - sometimes joyful and sometimes tragic.
With dozens of local people working hard to produce the show, it promises to be a magnificent community event for all. We hope you can join us.
LYME AND THE SEA
WEDNESDAY 15 JUNE - SATURDAY 18 JUNE
£8.00 adults | £4.00 under 18s | 10% discount for members www.marinetheatre.com
Lloyds Mobile Bank
10.00 - 12.15, Woodmead Halls Car Park, Hill Road, Lyme Regis
Owing to traffic times are approximate
Please use it or we may lose it!
we recommend calling Lloyds mobile branch hotline on 0345 601 6943 before you travel.

RE-FILL SCHEME

More Lyme Regis businesses are joining the Re-Fill scheme which has received so much national publicity recently. "Refill is a free tap water initiative designed to reduce plastic pollution and promote healthy hydration by making refilling a water bottle easy, social and rewarding! Hats off to the 12 businesses taking part in Lyme Regis .. as others join we will let you know. If anyone wishes to join, just contact Litter Free Coast and Sea who co-ordinate locations in Dorset. There is also an app which can show ReFill locations near where you are.
Penny Black Café, Frank & Beans Gelateria Cornish Bakery Aroma Coffee House Galley Café The Good Food Store Roly's Fudge Pantry Bell Cliff Restaurant Mulberry Manor Tierra Kitchen
Alexandra Hotel Red Panda
Baboo Gelato Courtyard Café
Lyme's Fish Bar Old Bonded Store Tearoom Nag's Head

Recycling Container
for coffee cups and beverage cartons and for other beverage cartons widely used to package milk, fruit juice and an increasingly wide range of food products, including soup, chopped tomatoes and pulses at Holmbush Car park
Dorset Waste Partnership has placed a container in Holmbush Carpark, alongside one for textiles and one for aluminium foil. Kerb side recycling is not available at the moment for coffee cups or food and drink cartons but by taking them to Holmbush, we can do our bit for recycling and make a dent in the huge number of paper coffee cups with plastic lining that need to be recycled separately from paper collections . Take away coffee cups can also be taken to Costa where they are stored and taken regularly to Costa's own recycling centre for cups. You can take in cups from other cafes/shops are well as any purchased from Costa.

Lifeboat Week 2022

Saturday 23rd - Friday 30th July
The Lym Valley Croquet Club


Croquet is a fascinating game. We play a highly social version and a highly tactical version. All equipment is provided, and rather like riding a bike, it's easy at first, but gets more difficult the nearer you get to the Tour de France!
We play at the King George Field in Uplyme (by the cricket ground).
Walks
Do take advice about safe tide times before setting off for more than

fifteen minutes hike, without a guide, along our beautiful beaches: - what appears to be an easy bit of ground to scramble over is more likely to be a treacherous mud slide - don't take a chance!

A selection of 11 walks around Lyme Regis area to do at your leisure
see here for maps

Guided Fossil Walks

Charmouth Heritage Coast Centre: Booking Essential Tel 560772

Daily Fossil Walks
Sat - Tues with Brandon Lennon from the anchor, Cobb Gate Tel 07944 664 757

Lyme History Walks
Drama and adventure on land and sea!
A one and a half hour walk around Lyme visiting places

of historic interest and telling stories about the people and events that have taken place. "We aim to be both entertaining and informative."

Out of season, Winter or Christmas walks can easily be arranged for individuals or groups on request. Let us know your individual requirements.
All local organisations and charities

are invited to have a stall at the
May Day Fete
The Playing Field, Anning Road
Tel 01297 442220. email: info@lymeregiscarnival.co.uk
Books to your Door
Unable to get to the Library? Housebound?
Tel 01205 2250000 or e-mail libraries@dorsetcc.gov.uk