Thursday 3 May

Underwater Sound in Blue Planet II
Talk by Intrepid Explorers, an organisation which shares stories of field research, is bringing Blue Planet II to Dorset through a special talk at the Marine in Lyme Regis. Professor Steve Simpson will share his experience, video clips, and audio recordings. He worked as Series Academic Advisor for the acclaimed series and other David Attenborough documentaries, such as his Great Barrier Reef programme in 2015. Much of Professor Simpson's work focuses on underwater acoustics, including the use of sound by fish and invertebrates, and impacts of human noise on marine life. The ocean is a remarkably noisy place, with whales, dolphins, fish, and invertebrates all producing sound to communicate. Doors open at 6:30 P.M., event starts at 7 P.M. Tickets from www.marinetheatre.com £5 advance, £7 on the door Booking Fee may apply
Friday 4th - Sunday 6th May 2018

The Lyme Regis Fossil Festival
An annual event for the whole family. The Festival seeks to enthuse young people about science, earth sciences in particular.
Sunday 6th May 2018

Rogation Sunday
Blessing of the Boats: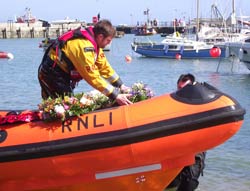 Rogation Sunday - when traditionally, the Lyme Regis Lifeboat holds a Blessing of the

Boats family service outside the boathouse at The Cobb. Wreaths are blessed and taken out to sea by the lifeboat where they are laid to commemorate those lost at sea: The Royal British Legion standard and a poppy wreath will be laid as part of this Ceremony at Lyme Regis Slipway. The short service, with the Lyme Regis Town Band, starts at 15.00 (3.00pm) everyone is more than welcome to attend
Monday 7th May Day (Early May Bank Holiday)
Wednesday 9th

Outing to the RHS Gardens at Wisley in Surrey,
leaving from Uplyme Village Hall at 7:45am. This is the main RHS garden, and should be a fascinating day out, with a huge amount to see. The cost is £20 pp, please book your place with Annie Kobus on 01297 443346 or 44927. Guests are welcome for an extra £3. Uplyme and Lyme Regis Horticultural Society

Lyme Lunches
Nutritious, good value lunch, aimed at over 50's. 2 courses plus tea or coffee £6 The Pine Hall, Baptist Church, Broad Street. 2nd Wednesday of month. Organised by Lyme Forward. Bookings: Penny Black café (behind the Post Office)

Friday May 11th

Lyme Folk Weekend:

Annual Lyme Folk Revisited fundraiser.
Tickets are now on sale for this one-off special show featuring two brilliant solo performers who have featured on smaller stages at previous festivals, and an amazing band who are brand new to Lyme Regis. You may have been lucky enough to catch Steve Dagleish in the Pilot Boat or on the Seafront Stage last year. Steve is a superb guitarist and songwriter, and has really impressed us with some captivating live performances. Also appearing will be Toby Noble, an absolutely outstanding virtuoso guitar player who delighted us at Lyme Folk 2016. A

nd rounding off our trio of acts are Ranagri, a brilliant four-piece band bringing a little Celtic touch to this corner of Dorset. marinetheatre
As usual, all profits from the fundraiser go to help us put on our summer festival, so please come and support us on what will be a wonderful night of music. TIckets for Lyme Folk Revisited are £10, available online at lymefolk.com or from Lyme Regis Tourist Information on 01297 442138. on sale from Monday March 5.


Saturday 12th & Sunday 13th May 2018



MillFest: National Mills Weekend is the annual festival of our milling heritage, providing visitors with a fantastic opportunity to celebrate working watermills.

Sunday 13th May 2018

May Fete


Displays, over 50 stalls from local organisations and commercial stalls. Last year had: Wessex Marching Band, Falconry Display, children dancing, Taekwondo, Majorettes. Over 50 stalls, crafts, Activities, stalls, local groups. 13.00. Anning Road recreation Ground, The Playing Field, Anning Road
Wednesday 16th

Charity Golf Day
An annual event held at the Lyme Regis Golf Club and organized in conjunction with the Rotary Club of Axminster. Teams of four, Stableford, two scores to count, full handicap (max men 24, ladies 30). Organised by the Rotary Clubs of Lyme Regis and Axminster: We can make up teams. For further information contact secretary@lymeregisrotary.org


Meet and Remember - A memory café for Lyme Regis, Uplyme and Charmouth Supportive, friendly environment for those experiencing memory loss or who have recently been diagnosed with dementia and the friends/relatives/carers who support them. 2 - 3.30pm Lyme Regis Football Club Pavilion 3rd Wednesday of the month, contact 07704902604 lymememory@gmail.com or just come along. LymeForward

Saturday May 19th

SPRING PLANT SALE & COFFEE MORNING
– put it in your diary, but also think of what extra seeds you can sow, or plants you can bring along for us to sell for Society funds. The more we have and can sell, the better deals you will get on the day! Doors open at 9:30 am, entrance is £1 – donations of all kinds are welcome. Uplyme and Lyme Regis Horticultural Society
Wednesday May 23rd

'Square Metre Gardening' Our speaker for May is Claire Hart, at 7:30pm in Uplyme Village Hall. She will be speaking on "Square Metre Gardening" - how to get the maximum yield of edible crops from a small area. Tea and coffee are available before and after the talk, members free, guests £3. Uplyme and Lyme Regis Horticultural Society
Thursday 24 May

GEORGIE FAME


We've added an extra date to this year's programme for a very special guest appearance by the legendary GEORGIE FAME who will open the festival on . This is organised in conjunction with Marine Theatre, Lyme Regis. One of a very select number of UK tour dates, Georgie Fame, will appear in the intimate setting of Marine Theatre to open the Jazz Jurassica weekend. With his much loved blend of jazz and R & B, Georgie Fame is a true icon of the British music scene. With many albums and hit singles to his credit and a long list of collaborators such as Muddy Waters, Gene Vincent, Bill Wyman, Eric Clapton and Van Morrison, you won't want to miss this up close evening with a legendary artist. You'll hear Georgie's hits, alongside music from the artists that have influenced him - interspersed with personal anecdotes from his incredible career. A very special evening - don't miss it! Marine Theatre, 8pm
Friday 25 – Monday 28 May, 2018
L

YME JAZZ JURASSICA WEEKEND Tickets are now on sale for all our main events. Please note that doors will open approx 30 mins before times indicated below. WEEKEND TICKET includes six events: Fliss Gorst Big Band, BBQ with La Vie en Rose, Taylor Quartet, Brunch with Annika Skoogh Quartet, Babylon, and Liane Carroll Trio. TICKET £90 +b/f Please note: the Weekend Ticket does not include the Georgie Fame concert on Thursday 24 May which is a special event to open the festival! www.jazzjurassica.co.uk
Monday 28th Spring Bank Holiday


Half Term
---
Dates to be advised
Duck Race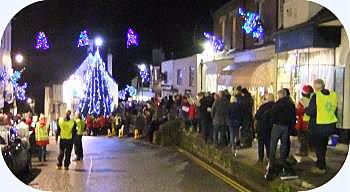 In aid of Lyme Regis Christmas Lights. Ducks available from 11.30 on the day. Midday from Windsor Terrace - (bottom of Woodmead Road).


The Mayday Yellow Welly fund raiser