Monday 1st May 2023 May Day Bank Holiday

Thursday 4th May

The Lyme Regis Society
invites you to their Annual Coffee
Morning

On 4th May at the Alexandra Hotel from 11.30 am to 1.00 pm. All welcome. Entrance by donation
Saturday 6th May The Coronation of King Charles III

Sunday 7th May 2023 International Dawn Chorus Day


visit RSPB for more information about the RSPB's events
Coronation Civic Service
11am St Michaels Church, Church Street

The Big Coronation Party
Lyme Regis celebrates the Coronation of King Charles III
3pm - 10.30pm at Lyme Regis Football club, Charmouth Road organised by Lyme Regis Town Council bring your Gateway Card
Monday 8th May Bank Holiday to celebrate the Coronation of King Charles III
Lyme Regis Coronation Fete 2023 CANCELLED DUE TO WET WEATHER


Fantastic Stalls,, Ice-Cream, Fresh Coffee, Homemade Cakes, Refreshments Activities, stalls, local groups. Lyme Regis May Fete has been a popular event over many years and offers lots of fun things to do for all the family 1- 4pm Anning Road Recreation Ground, The Playing Field, Anning Road
Tuesday May 9th

The Garden House, Buckland Monachorum, Nr Tavistock
COACH TRIP departs 9.15am. 10 acres in a tranquil Devon valley, with nearly 6,000 plant varieties. Outstanding naturalistic planting. Tearoom & plant sales. £22. www.ulrhs.wordpress.com
FRIDAY 12 MAY
MATT CARTER OCTET -
Marine Theatre, Lyme Regis, 8pm
May 13th (Saturday)


PLANT SALE & COFFEE MORNING. Please donate plants, garden sundries or home produce (cakes, preserves, eggs, veg) to sell to raise funds to support our events. Entry £2 includes a cup of tea or coffee. 10am to 12 noon Uplyme Village Hall www.ulrhs.wordpress.com
13th -14th May 2023

Jurassic Coast Challenge
https://www.ultrachallenge.com/jurassic-coast-challenge/
Sunday 14th May Rogation Sunday 2023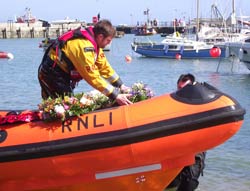 Blessing of the Boats
Traditionally, the Lyme Regis Lifeboat holds a Blessing of the Boats family service outside the boathouse at The Cobb. Wreaths are blessed and taken out to sea by the lifeboat where they are laid to commemorate those lost at sea: The Royal British Legion standard and a poppy wreath will be laid as part of this Ceremony begins 3pm at Lyme Regis Slipway.
May 24th Wednesday

TALK. 'Making a Butterfly Garden' by Martin Young, chair of Plant Heritage Dorset. Martin used to breed butterflies and moths; now he grows the plants that attract them. He looks at how to plant and design your garden to attract more butterflies, moths, hoverflies, ladybirds and bees. 7.30pm www.ulrhs.wordpress.com
Saturday 27th - Monday 29th May 2023
Sitting Spiritually of Lyme Regis – we've got a fabulous
Open Garden Weekend taking place on the 29th May at our premises in Uplyme.
The garden will be open from 11:00 a.m. - 5:00 p.m.
https://www.sittingspiritually.co.uk/blog/article/the-sitting-spiritually-garden-open-weekend
Monday 30th May 2023 Spring bank holiday
Tuesday 30th May Half Term
---
Dates to be advised
Lyme Regis Front Beach:


Dogs permitted on leads
1st October - 30th April
Dogs allowed all year off lead
Monmouth Beach,
Church Cliff & East Cliff (Back) Beach.

Please check local notices and see https://www.lymeregistowncouncil.gov.uk/beaches
for detailed info
All invited to
Blessing the Boats
The annual Blessing of the Boats service will be held at the RNLI lifeboat station in Lyme Regis

Open air, inter-denominational service, starting at 3pm 14th May, visitors and residents are invited to take part.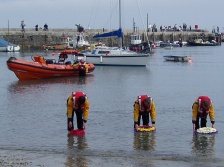 The service is normally held every year on Rogation Sunday to remember those who have given their lives at sea.
At the end of the service three floral wreaths and a poppy wreath from the British Legion will be taken aboard the RNLI lifeboat and laid at sea.


Lifeboat Week 2023
Saturday 22nd - Friday 28th July

Exhibitions

A Celebration of Sky
7th March - 11th June 2023

The next exhibition at Lyme Regis Museum's Rotunda Gallery will focus on cloudscape lino prints by Exeter-based printmaker Steve Manning. Working out of his attic studio with commanding views of sky and clouds, Steve is drawn to liminal places where sky and water merge and to ephemeral cloudscapes over big landscapes. His aim is to deliver images with a lightness of touch and a painterly quality reminiscent of watercolours. This is achieved by thinning ink with extenders, lightening with white, wiping ink on the block, deliberately reducing the amount of ink applied with the roller and combining press and hand finishing processes.
Tues-Sun 10am-4pm; but check Museum website (www.lymeregismuseum.co.uk) for holiday openings and admission charges.
Rotunda Gallery, Lyme Regis Museum, Bridge Street, Lyme Regis DT7 3QA


Lyme Regis Art Society
Annual Exhibition
26 May to 8 June 2023
The Society is excited once again to be holding our Annual Exhibition at the Malthouse Gallery at the Town Mill, where we will be showing work by many of our 70+ members. Free admission
10.30am to 4.30pm daily

Malthouse Gallery

The Town Mill, Mill Lane

Lyme Regis DT7 3PU

Free Admission
WALKS and TOURS
Do take advice about safe tide times before setting off for more than

fifteen minutes hike, without a guide, along our beautiful beaches: - what appears to be an easy bit of ground to scramble over is more likely to be a treacherous mud slide - don't take a chance!
OPEN MEADOWS
Walk the famous wildflower meadows at Hochester Farm (as seen on wild Isles with Sir David Attenborough). Also 50 acres of nature reserve including rewilding areas, woodland walk and a labyrinth mowing into the meadow overlooking Charmouth.
Open daily from 9:00 to 5:00pm mid May to the end of July
Entry - £4 for Adults, under 16 FREE
Full visitor information
HOGFEST
Folk music and cider festival. With food, drink and merriment in the wildflower meadows of Hogchester. With stunning views down to the sea at Charmouth and over the Vale.
Date – 22 July opening at 2:00pm closing at 10:00pm.
Entry - £12 for Adults, £6 for under 12, under 6 FREE.
Full line up and visitor information
A selection of 12 walks around Lyme Regis area to do at your leisure see here for maps
Lyme History Walks

Meet at the Marine Theatre
"Discover the unique and colourful history of Lyme Regis with experienced tour guide Chris Lovejoy"
01297 443140