Monday 1st May Day (Early May Bank Holiday)
Duck Race


In aid of Lyme Regis Christmas Lights. Ducks available from 11.30 on the day. Midday from Windsor Terrace - (bottom of Woodmead Road).
Friday 5th May 2017



Lyme 1200 / Dave King / Victor Ludorum / Wallis Competitions;
19th AGM/Social/end of season awards. For further information please contact Mr Chris Sellers on 01297 442475 or see Lyme Bay Photographic Club 7.30 pm - 10.00pm. Woodmead Halls, Hill Road, DT7 3PG.


Ayesha Hazarika: State of the Nation
The Marine Theatre, www.marinetheatre.com

Sunday 7th




May Fete
Activities, stalls, local groups. The Playing Field Anning Road
Wednesday 10th

Charity Golf Day
An annual event held at the Lyme Regis Golf Club and organized in conjunction with the Rotary Club of Axminster. 2017 in aid of Exeter Leukaemia Fund and Julia's House Hospice. Teams of four, Stableford, two scores to count, full handicap (max men 24, ladies 30). Organised by the Rotary Clubs of Lyme Regis and Axminster: We can make up teams. For further information contact secretary@lymeregisrotary.org Download Entry Form

Saturday 13th



Spring Plant Sale


start your seeds going and bring them along for us to sell. This is always a good opportunity to buy the plants you did not succeed with, and to pass on the ones you got too many of – all donations will be gratefully received. 9.30am Uplyme Village Hall Uplyme and Lyme Regis Horticultural Society
Sunday 14th

Spring Concert
by Lyme Bay Chorale, 4pm St Michael's Parish Church, Lyme Regis. More info to follow
Monday 15th

Black Ven Poetry Club Workshop


Six monthly live poetry workshops exploring ways of harnessing creativity to write poems, speak poems, and connect with the nature and elements outside. Anyone who is interested in how to develop ideas into poetry on the page, and on the stage. Join us if you're interested in thinking about language, articulation, story, speaking out and how. The workshops are aimed at poets, dreamers and thinkers. All abilities welcome. The workshops will involve: - Introducing themes to engage with nature and develop tools to write with, plus broad guidance and discussion about different approaches to composition and style; - Readings of relevant literature, and poetry; - Deep Listening and meditation; - A 15-minute outdoor learning observation exercise (outside and in silence); - Sharing our experiences from our 15 minutes and finding threads to work into; - Guest teachings on how to stand up and offer your poems to others from theatre performance, music and acting specialists to teach breathing, physicality, microphone technique and voice control using basic exercises. You will probably not come away with a poem or finished piece at the end of the workshop, but tools to work with between the sessions. You may find that the teachings allow release for new thinking in other areas, or being able to tap into creativity more deeply in any artform. Price: £10 or £6 if you are a regular face at the local Apothecary or Vittals & Verse open mic poetry nights. 12 - 2pm Marine Theatre Bar, Marine Theatre, Lyme Regis DT73QB blackvenpress@gmail.com or sarah@marinetheatre.com Dates: (All Mondays) March 20th, April 17th, May 15th, June 19th, July 17th, August 21st


Othello
The Marine Theatre, www.marinetheatre.com
Friday 19th

AGM / End of season awards / Social
For further information please contact Mr Chris Sellers on 01297 442475 or see Lyme Bay Photographic Club 7.30 pm - 10.00pm. Woodmead Halls, Hill Road, DT7 3PG.

The Zoots: Sounds of the 60s
Experience THE Sixties show that's wowing audiences around the world, selling out and

headlining venues from the Palladium to Old Trafford – with the spectacular sounds of THE ZOOTS! THE ZOOTS are here to make your whole family bop to the '60s beats that everybody loves – with legendary numbers by The Beatles, The Stones, The Monkees, The Beach Boys, The Kinks, Elvis and dozens more of your favourite artists. Feel the groove that's thrilling audiences of stage and screen, in more than 30 countries! Discover why national critics call THE ZOOTS "impressive", "authentic", and "impossible not to like" Tickets £15 concessions £13 www.thezoots.com The Marine Theatre. Tickets here http://www.marinetheatre.com/the-zoots-sounds-of-the-60s-friday-19th-may/

Sunday 21st Rogation Sunday
Blessing of the Boats: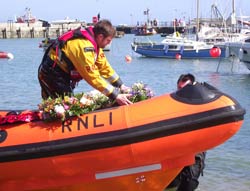 Rogation Sunday - when traditionally, the Lyme Regis Lifeboat holds a Blessing of the

Boats family service outside the boathouse at The Cobb. Wreaths are blessed and taken out to sea by the lifeboat where they are laid to commemorate those lost at sea. The short service, with the Lyme Regis Town Band, starts at 15.00 (3.00pm) everyone is more than welcome to attend

Wednesday 24th 2017


'Searching in the Dark: Mysteries of the South West's Rare Bats'
by Fiona Matthews of the Mammal Society and University of Exeter. 7.30pm Uplyme Village Hall Uplyme and Lyme Regis Horticultural Society
Friday 26 May until Monday 29 May 2017
2

017 Lyme Regis Jazz & Blues Weekend
We hope you managed to get along to 2016's festival to enjoy the scorching sunshine and fabulous music both in the Marine Theatre and on the seafront.
If you missed this year, make a definite date for next year - you won't regret it as we've got more great music planned and a few surprises besides.
Check out the photos of this year's festival fun on our website here.
If you'll need accommodation, then don't leave it too late to book, as Lyme Regis does get very busy over the Spring Bank weekend, and we'd hate you to miss out.
We hope to see you in 2017.
Monday 29th
Spring Bank Holiday

Half Term
---
2016 events you may have missed:



Grand Rotary Book Sale and Children's Tombola 10.00am to 4.00pm, Jubilee Shelters. In aid of Rotary Charities.


---