Saturday 1st June

RNLI Flag Day: volunteer collectors will be on duty in Lyme Regis and Charmouth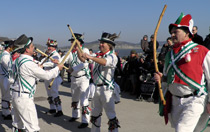 Lyme Regis Day of Morris Dancing: Performances on the seafront throughout the day, including Morris dancing sides from across the country, local schools and a Morris band. start at 11am. Beach barbecue in the evening.
Wednesday June 12th 2019

Coach trip to Lytes Cary Manor and Midney Gardens and Nursery

Lytes Cary is an intimate manor house featuring a 14th-century chapel and 15th-century Great Hall. Its Arts & Crafts-style garden is an inspiring combination of outdoor rooms, topiary, statues and herbaceous borders. Small tea room and shop.
Midney is a 1.4-acre plantsman's garden and nursery, where unusual planting combinations, interesting use of colour and a natural flowing style create a garden full of variety and inspiration. Includes seaside garden, white garden, kitchen garden, woodland walk, wildlife pond and undercover world gardens.
Cost for members £18 if also a National Trust member, £22 if not. Guests welcome at an additional cost of £3. Cost includes tea and cake at Midney. Coach departs Uplyme Village Hall at 9.15am. Please ring Annie Kobus 01297 443346 to book. Uplyme and Lyme Regis Horticultural Society
Saturday 15th June




Guitars on the Beach Guitars On The Beach is the UK's largest guitar festival at which hundreds of guitarists of all ages and abilities come together to simultaneously play together a selection of well-known songs and form Britain's biggest band, performing on the beach in Lyme Regis in Dorset. Guitars on the Beach
Sunday 16th Fathers Day
Friday 21st - Saturday 22nd Marine Theatre: The first 125 Years

Saturday 22nd Sunday 23rd June 2019

Axe Vale Show - Axminster - Music - Stalls - Displays
Coach Parties welcome Dogs welcome. THE SHOWGROUND, Trafalgar Way, AXMINSTER From 10am to 6 pm Axe Vale Show
Sunday 23rd June
Coast to Coast: Jurassic Coast Motorcycle Run: Lyme Regis to Weston-super-Mare Veteran, Vintage & Post War Classics (in production in the 1990's) will again start from Lyme Regis promenade (Guncliff) and, after the customary call by the Town Crier and address from the Mayor, will proceed to the Clubs home base at Chilthorne Domer Recreational Club. Then it's onto Wells Market Place and Bishops Walk for the lunch stop before proceeding to the finish and award presentations by the Mayor on Burnham-on-Sea South Esplanade. Vintage Motorcycle Club, Dorset section visit Lyme Regis. Come and view the parade of bikes first at the Guncliff and talk to the riders This event is open to motor bikes in production up to and including 1972 including Veteran and Vintage. Departs from Cobb Gate/Marine Parade. Arrive early to have a good look at the bikes! Supported Charity: Headway Somerset More info www.wcmcc.org.uk Westland Classic Motorcycle Club
Wednesday June 26th 2019

'The Dutch Flower Painters and Landscape Painting' by Pam Simpson

Pam will talk about the Dutch flower painters and show how landscape painting evolves. Pam is an Art and Design Historian, who has worked in London art schools for 30 years, including the Royal College of Art. She spent 20 years at Middlesex University.
She lives in West Dorset now and is currently Associate Lecturer at Bath Spa University in the art school and at London College of Fashion, University of the Arts London. Pam teaches short courses and study days in Bridport and in 2019 in Lyme Regis.
Everyone is welcome. The talk starts at Uplyme Village Hall at 7.30pm. Refreshments are available from 7.15pm. Members free; non-members £3. Uplyme and Lyme Regis Horticultural Society
---

Past Events
Annual LYME REGIS POPPY RUN
the Royal British Legion (kindly hosted by Lyme Regis Football Club) are holding their third annual Poppy Run to celebrate Armed Forces Day. The 3km race starts at 1

1.00am from the bottom of the new steps (leading from Charmouth Road car park) on the East Cliff walkway. (Car parking in Charmouth Road Car Park at am of steps.) Please note that the 3km run on the route shown is to the Gin Shop on the Cobb AND back.
All competitors need to report to the registration desk at Lyme Regis Football Club between 9.30 & 10.30
There will be lots of stalls and afternoon entertainment so stay on and enjoy food, drink and a great time for the kids at the Lyme Regis Football Club ground.
Entrance fee for the 3km is £5 (minimum age 10 unaccompanied). All proceeds will go the Lyme Regis Branch of The Royal British Legion Poppy Appeal. More info: info@lymeregispoppyrun.com
If you'd like to help out with marshalling, supervising a water station or stewarding at the start and finish, please contact us as above or :-
lymeregis.memsecretary@rbl.community Entry Form and more info at: Lyme Regis Poppy Run

Velo Vintage Occasion & Ride, Seaton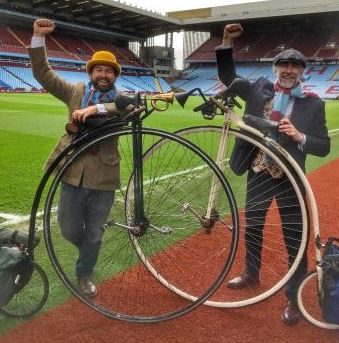 We're delighted to be holding our 14th Occasion & Ride in the coastal resort of Seaton on the Jurassic Coast. We had such a wonderful time last year, we just had to return.
The ride distance will be no more than 9 miles at a very relaxed pace. Tickets must be purchased before the event for riders. You don't need a vintage bicycle, but you do need a bicycle! Lycra is banned and vintage/traditional attire is the order of the day
Spectators are free to come and meet us, indeed are positively encouraged. In aid of Headway Devon. 10:30 am Grand Depart from Seaton Jurassic. More info: www.velovintage.co.uk