Thursday 2nd June 2022 Spring bank holiday
The May Bank Holiday Weekend has been moved to Thursday 2 June.
An additional Bank Holiday on Friday 3 June will see a four-day weekend to celebrate Her Majesty The Queen's Platinum Jubilee - the first time any British monarch has reached this historic milestone. Hip hip hoorah!
Thursday 2 June - Sunday 5 June 2022

Queen's Platinum Jubilee Events
Best Decorated Shop Window
Best Decorated Private House
Children's Art Exhibition/Workshop
Lyme in the 1950s Exhibition
Memories of The Coronation

JAZZ JURASSICA FESTIVAL
2022 the late May Bank Holiday moves to early June for the Queen's Platinum Jubilee. We've decided to join these very special celebrations on the new Bank Holiday weekend in early June. We expect accommodation will book up very quickly for those dates In 2023, the festival will return to its traditional May Bank Holiday dates. www.marinetheatre.com
Thursday 2 June

Torchlight Procession
300 blazing torches will illuminate Langmoor and Lister Gardens
Friday 3rd June 2022 Queen's Platinum Jubilee bank holiday


NEIL MAYA'S CARTOON JAZZ
The music is instantly recognisable, and you'll be singing along in no time! Whether you're 9 or 90, it'll put a smile on your face. Yes, it's jazz - but not as we know it! Neil Maya's Cartoon Jazz uses music to evoke the drama, mood and characters of our best loved cartoons. Pink Panther conjures up the comic blunderings of Inspector Clouseau. Top Cat echoes the crazy slapstick of Sgt Bilko. And Homer Simpson's pretentions are evident in his version of The Flintstones theme song.
Neil Maya Quartet is no stranger to Jazz Jurassica. In 2019 he performed his popular Brubeck Project to a sell-out brunch at the Royal Lion Hotel. In 2021 we featured his 1959 show. Cartoon Jazz is his latest project.
Family fun at its best - all accompanied under 14s admitted for free.
Band line up: Neil Maya (saxophone), Tom Ball (pianist), Kevin Sanders (bass) and Gary Evans (drums). 11.30am Marine Theatre, Lyme Regis www.marinetheatre.com

Saturday 4 June

DOCKSIDE LATIN ORCHESTRA
"Get those salsa hips swivelling" 8.30pm Marine Theatre, Lyme Regis #jazzjubilee #jazzjurassica2022 #docksidelatin #latin www.marinetheatre.com
Sunday 5 June

VERONICA & MAX
Veronica and Max play acoustic blues, ragtime, vaudeville and jug band music from the 20s and 30s. Playing ukulele, washboard, kazoo, and guitar, their vintage sound still oozes contemporary cool. Max de Bernardi is an accomplished guitarist and singer. Veronica Sbergia plays washboard and ukulele, stamping her feet to percussive effect.
Veronica and Max live in Italy but perform all over the USA and Europe. As a trio, 'Veronica & The Red Wine Serenaders', they won the coveted European Blues Challenge in 2013. They also represented Italy in the International Blues Challenge in Memphis. 11.30am Marine Theatre, Lyme Regis www.marinetheatre.com
TOM SEALS
"An extraordinary young talent! The wonderful Tom Seals!" - Jools Holland 4.30pm
Marine Theatre, Lyme Regis www.marinetheatre.com #jazzjubilee #jazzjurassica2022 #tomseals #boogiewoogie

Late afternoon Picnic in the Gardens
with local performers entertaining followed by a performance by The BBC Big Band
and then
Firework Display

Monday June 6th

Saturday 11th



Uplyme Fete



WEDNESDAY 15th JUNE to SATURDAY 18thJUNE
Lyme and the Sea, our Community Play
In Lyme Regis, there's a strong tradition of Community Plays that dates back to the 1970s. In recent years, successes include 'Tempest of Lyme', 'Monmouth: A West Country Rebellion' and 'Are you Going to the Marine?' .
Screenwriter and Marine patron Andrew Rattenbury has done it again: Lyme and the Sea is a celebration of our town's enduring relationship with the sea - sometimes joyful and sometimes tragic.
With dozens of local people working hard to produce the show, it promises to be a magnificent community event for all. We hope you can join us. £8.00 adults | £4.00 under 18s | 10% discount for members www.marinetheatre.com

Thursday 16th June

Lyme Regis Carers' Café
The Driftwood Café, The Baptist Church, Lyme Regis The Third Thursday of every month – Thursday 21st July, Thursday 18th August, Thursday 15th September. From 11am till 1pm – stay all morning or just drop in. Anyone who looks after a friend, relative, partner or neighbour is welcome. You do not have to be a registered carer. lymeregiscarerscafe.co.uk
Saturday 18th & Sunday 19th

Sunday 19th 2022 Fathers Day

Organ recital by Emma Gibbins,
Director of Music, Newport Cathedral at 3pm. Lyme Regis Parish Church, Church Street
Free with a retiring collection
Tuesday 21st Summer Solstice
Turn Lyme Green AGM and Talk: Symondsbury Estate 'Living the Dream' Free, all welcome 6.30 for 6.45 AGM, Talk by Philip and Julia Colfox 7.30 Driftwood Cafe, The Baptist Church, Broad Street


Weds June 22nd

TALK. 'Water Voles and Mink,
Graham will be entertaining us again with his tales of the riverbank. Uncomfortable Bed Fellows' by Graham Roberts. Local ecologist Uplyme Village Hall. Refreshments from 7pm. Members free; guests £3. www.ulrhs.wordpress.com
THE HANDLEBARDS: TWELFTH NIGHT


Pedalling from venue to venue with all of their set, props and costumes on the back of their bikes, the HandleBards are a troupe of actors who are spending the summer bringing environmentally sustainable Shakespeare to venues across the UK. Join The HandleBards at the Marine Theatre for a bicycle-powered, laugh-out-loud production of Shakespeare's Twelfth Night. £15.00 early bird | £17.00 advance | £10.00 under 18s | £19.00 on the door | 10% discount for members www.marinetheatre.com
---
Dates to be advised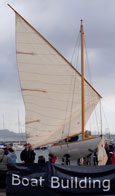 Boat Building Academy Boat Launch

Just eight months ago this Class was learning how to sharpen chisels and make dovetail joints. Now they're making boats as part of their training on our intensive 38 week 'Boat Building, Maintenance and Support' course. You can read what brought each student to the Academy and follow the progress of the boat builds at www.boatbuildingacademy.com.

At 2.30pm(ish) the boats will be led from the Academy's workshops on Monmouth Beach to Lyme Regis Harbour. Champagne corks will pop and each boat will be launched into the water for the first time. The launch will celebrate the achievements of the class, the end of their training at the Academy and the start of their new lives as boat builders.

the slipway -

This is an approximate time due to the scale of the event.

more info.. see right