THURSDAY 2 SEPTEMBER 2021
THE LORD CHAMBERLAIN'S MEN: MACBETH
From £10 10% discount for members Bar opens at 6:00 P.M. Starts at 7:00 P.M. www.marinetheatre.com

THURSDAY 9 SEPTEMBER 2021
Frankie Howerd Returns
Famed for Up Pompeii, the Carry-On Films, and dozens of television appearances, Frankie Howerd was one of Britain's most loved comedians for half a century. Coming to the Marine Theatre in Lyme Regis, Howerd's End is a brand new play by Mark Farrelly. It explores the heart of Frankie's secret personal life with his manager Dennis. The play also pays great tribute to the legendary comic with extended scenes of Frankie in full-flight stand up mode. Packed with laughter, but unafraid of truth, Howerd's End portrays a journey through closeness, love, grief, and all the other things that make life worth living. The play has received rave reviews for its off West-End run, and is from the same writer of Quentin Crisp: Naked Hope £14.00 advance / £16.00 on the door 10% discount for members Bar opens at 7:00 P.M. Starts at 8:00 P.M.
Friday 10th September

The job of a laughtime: Brad Ashton

Lyme Regis u3a talk at 11am Brad recalls the fun he's had writing Radio and TV series for top comedians, including Tommy Cooper, Les Dawson, Dick Emery, Frankie Howerd, Bruce Forsyth, Hylda Baker, Hattie Jacques, David Frost and Bob Monkhouse. The talk contains many humorous backstage stories with some startling surprises. To join the talk, via zoom, please visit the web site www.lymeregisu3a.org for details of membership of this learning co-operative and all the other activities available.




12th September

Lyme Splash
Lyme Regis to Charmouth Sea Swim Challenge

Gardeners' World speaker at local horticultural society

The Uplyme & Lyme Regis Horticultural Society is restarting its face to face events this autumn with star speaker Nick Bailey from BBC's Gardeners' World. The talk, entitled 'Revive your Garden', will be held on Wednesday September 15th at 7.30pm at Uplyme Village Hall. Doors open at 7pm.
Nick will look at how to breathe life, style and good health back into a tired garden, whether it's a long-standing plot that has become tired and unloved, or a newly acquired garden that needs some attention. His focus is on simple ideas, techniques and design solutions that anyone can achieve, Nick will also give seasonal guidance on the best times to undertake basic tasks, so that reviving your garden becomes both satisfying and rewarding.
The talk will cost £5 for members; £10 for non-members. Please note this event is advance bookings only with payment taken on the night. Seat numbers are limited so please book early to avoid disappointment. Please register with Jo Benke-Smith joanna.ulrhs@yahoo.com
Nick will be bringing copies of his book 'Revive Your Garden ' which can be purchased on the night.

THURSDAY 16 SEPTEMBER 2021


Hey Wild Things:
THE TROGGS
Who can forget "Wild Thing"? The Troggs have always been remembered for this 60s anthem, alongside "With A Girl Like You", "I Can't Control Myself", and "Love Is All Around". The Troggs still feature Pete Lucas on bass and Chris Allen on lead vocals, with Darren Bond, (son of founder drummer, Ronnie Bond) on drums, with John W Doyle on Lead Guitar. £20.00 advance / £24.00 on the door | 10% discount for members www.marinetheatre.com

Saturday 18th & Sunday 19th September 2021
Open House: Belmont, Lyme Regis, Dorset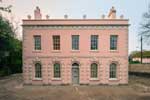 part of Heritage Open Days 10am – 4pm Free admission but book in advance
Giving history a future
Further details: www.landmarktrust.org.uk
22nd September 2021
Autumnal Equinox: The Autumn Equinox is the first day of the autumn season and occurs

when the sun passes the equator moving from the northern to the southern hemisphere. The sun is directly overhead at the equator and day and night are of approximately equal lengths. At equinox, the Sun rises everywhere on Earth (except the Poles) at about 6am in the morning and sets at about 6pm in the evening (though this can vary a little when time zones and daylight saving etc are taken into account).
FESTIVAL OF THE SEA | SATURDAY 25 SEPTEMBER 2021
Sea shanty sensation at free Festival of the Sea
Overlooking the sea, this day of eclectic events celebrating the ocean will feature performances and family activities alongside talks from world-leading scientists and local people. Tik-tok shanty sensation The Longest Johns will stage a unique concert. The event includes activities for all the family including the Story Boat Project, a miniature maritime museum, and an arts and crafts workshop.
This event is part of Future2021 and has received funding from the European Union's Horizon 2020 research and innovation programme under grant agreement No 101036029
Free ticket, but must be booked www.marinetheatre.com
THURSDAY 30 SEPTEMBER 2021
From Songs of Praise and 8 out of 10 Cats: LLOYD GRIFFITH: NOT JUST A PRETTY FACE
It's been a busy few years for the only comedian who is also a chorister. Lloyd Griffith supported Jack Whitehall on tour. You may have also seen him in on 8 out of 10 cats (Channel 4), Jonathan Ross' Comedy Club (ITV), and Songs Of Praise. 'Disarmingly good' – The Times £15.00 advance / £13.00 concessions | 10% discount for members www.marinetheatre.com
---
Dates to be advised:

Back to School?

Join us for the World's Greatest Coffee Morning!
in aid of Macmillan Cancer Support.

Ferne's Annual Fun Dog Show promises to be bigger and better than ever! Have-a-go agility, temptation alley and of course the show itself make it a doggy paradise, and there's plenty for people as well! Near Chard see www.ferneanimalsanctuary.org
Harvest Home Fundraising Auction
at the Nags Head, Silver Street 4pm where there will be some great prizes up for grabs including local produce, hampers and items donated by local businesses. Raffle tickets will also be on sale. All funds raised go towards Lyme Regis Christmas Lights. www.lymechristmaslights.co.uk
---
Dogs need to be on a lead all year on


Marine Parade, Cart Road, Gun Cliff, Church Cliff Walk, the Harbour, the Cobb Lister & Langmoor Gardens

Lyme Regis's front beach:
No Dogs
from 1st May until 30th September then on a lead

Dogs allowed all year
Monmouth Beach, Cobb Gate & East Beach.

Charmouth Beach:
no dogs from 1st May to 30 September.

Please check notices locally to verify this information
Dog waste must be cleared up and disposed of properly and dogs must be under the handler's control at all times. Failure to comply may result in a fine or prosecution.


Exhibitions

Fossils, Fish and Feathers
is an exhibition of recent watercolours
by Lyme Bay Artist Trisha Hayman,
which will be on show at the Rotunda Gallery of the Lyme Regis Museum from 14 September until 24 October.
Trisha's artwork features some of nature's less considered and expendable specimens - some beautiful, some bland and some often ignored. Her mission is to show the fragility of nature, especially specimens that are cast-off, discarded and abandoned, such as animal skulls and antlers, sea shells, birds' eggs, age-old fossils and ammonites. Her way of working involves many hours examining the subject matter closely - so a fine sable paintbrush, a magnifying glass and plenty of hot pressed paper are her essential work mates.
The Lyme Regis Museum is open daily 10am until 5pm (4pm on Sundays), and for more information, you can visit www.lymerwgismuseum.co.uk


Vaccination
Lyme Regis Medical Centre
&
Lyme Bay Medical Practice 445777

Charmouth Medical Practice 560872

WALKS and Tours
Do take advice about safe tide times before

setting off for more than fifteen minutes hike, without a guide, along our beautiful beaches: - what appears to be an easy bit of ground to scramble over is more likely to be a treacherous mud slide - don't take a chance!
FOSSIL WALKS

Get Fossiling on the Jurassic Coast! Join one of Lyme Regis Museum's famous fossil walks along this historic stretch of Dorset coast with Geologist Paddy Howe and Marine Biologist Chris Andrew. Some families return time and again to search with Paddy and Chris among the sand and rocks for fossils that have been washed down onto the beach after 190 million years. For adults and children alike, it's an unforgettable experience.
Each walk is limited to 15 people per guide. Start times for walks vary according to the tides and take about three hours.
Lyme History Walks

Meet at the Marine Theatre at 11.00am
Cost £8.00 Adults Children £4

July - Sept: Wed, Thurs, Sat ......+ Bank Hols
"Discover the unique and colourful history of Lyme Regis with experienced tour guide Chris Lovejoy"
01297 443140
Ghost Walks

Tues and Thurs 7.30 pm May – September

From outside Lyme Regis Museum
Lasts 1 hour Adults £8.00 Children £4.00

01297 443140 www.ghostwalkslyme.org.uk

Mary Anning Walks
Mary Anning was a world famous fossil hunter - and was featured in Tracey Chevalier's novel Remarkable Creatures - hear stories of her life and see where she lived and hunted.

Meet at
Lyme Regis Philpot Museum
Bridge Street
Lyme Regis
DT7 3QA
Jane Austen Tours
'During the Jane Austen tour we visit

the houses in which Jane is said to have stayed and hear stories of Lyme Regis as she would have known it. See where Louisa Musgrove fell on the Cobb.'
Tours run all year round. We have scheduled walks detailed below or you can contact us via our website www.literarylyme.co.uk to arrange another time.