Wednesday 1st November 2023


RBL Quiz hosted by the Ship Inn
1930 for 2000hrs start - contact the Ship to book a table


Saturday November 4th 2023


Fireworks 18.30 Sandy Beach
Saturday November 11th 2023 Armistice Day


NATIONAL TWO MINUTES SILENCE 11.00 am
T

he Armistice, an agreement to end the fighting of the First World War as a prelude to peace negotiations, began at 11am on 11 November 1918. Armistice is Latin for to stand (still) arms. To this day we mark Armistice Day around the United Kingdom with a Two Minute Silence at 11am on the 11th day of the 11th month

Lyme Regis Royal British Legion events
0900 HMS Formidable for a small service after laying crosses on the commonwealth graves
0930 Polish War memorial - Small service followed by 2 min silence and Polish National Anthem
1050hrs - Town war memorial, small service followed by 2 min silence and National Anthem.

Sunday November 12th Remembrance Sunday
Lyme Regis Royal British Legion events
0930hs meet at Langmoor gardens
0945hrs March through town to church for a Church Service
1045hrs - March to Cobb gate square for 2min silence and National Anthem.

Lyme Bay Chorale Remembrance Concert
Lyme Bay Chorale has established a tradition of performing a R

equiem on Remembrance Sunday, and the centrepiece of this year's concert will be the gorgeous modern work by John Rutter, composed in 1985.

Soprano Oriel Chapman – this year's recipient of the choir's bursary for young singers – will perform two solos in the Requiem. Organist Peter Irving will accompany the choir as well as playing a solo, Pièce Héroïque by César Frank. John Ireland's glorious anthem Greater Love Hath No Man will complete the programme. 4.30pm Lyme Regis Parish Church Admission is free with a retiring collection
14th November 2023
The Lyme Regis Society presents A Talk:
'Colyton through the Ages'
by Tony Robinson of Colyton Heritage Centre
2pm at Woodmead Halls, Hill Road, Lyme Regis. DT7 3PG. All Welcome. Members Free. Visitors £3.00. Refreshments Included. Social distanced seating available if desired.
Please check website for further information: http//lymeregissociety.org.uk
Saturday 25th November

Lyme Regis Christmas Lights Switch on
Come early for the Christmas Lantern Parade a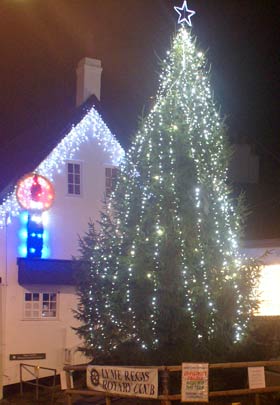 nd enjoy the atmosphere:

Join in the switch-on countdown - don't be late or you'll miss it!
The Christmas Tree, The Shambles, Broad Street
2.30 pm Lantern Workshop in Lyme Regis Baptist Church Pine Hall Children and adults welcome to come along and join in the fun and make a lantern
4.30pm Judging of the Lantern Competition in Lyme Regis Baptist Church
5pm Christmas Parade from the Baptist Church with lanterns, Lyme Regis majorettes and Santa down through Broad Street to the Christmas tree for the countdown