Sunday 1st November
Wedding Fair


With music, fabulous local suppliers, coffee shop and bar, there are ideas and friends and lace and vintage china, so dumdetdidum all aboard...here come the brides, and anyone else seeking an entertaining afternoon in the company of friends and wedding suppliers. Here is the ultimate Princess bride to remind us of what it's all about: a Grace Kelly wedding clip 1956. Marine Theatre 12-4pm - free!

Monday 2nd

November

Tuesday 3rd Last posting date for International Mail (formerly surface mail) to Cyprus, Eastern Europe, Greece, Iceland, Malta, Turkey
Thursday 5th
The Second best Exotic Marigold Hotel


RUNNING TIME: 122 mins Now that The Best Exotic Marigold Hotel is full up with its long-term residents, co-managers Muriel Donnelly (Maggie Smith) and Sonny Kapoor (Dev Patel) have a dream of expansion, and they've found just the place: The Second Best Exotic Marigold Ho... Anyone is welcome to come to Silver Screen; you don't have to be over a certain age to enjoy these shows. A Silver Screen ticket is just £3.50, and that comes with a complimentary tea or coffee. 10.30am, The Regent Cinema
Friday Nov 6th

Chard PDI Selection evening.
For further information please contact Mr Chris Sellers on 01297 442475 or see Lyme Bay Photographic Club 7.30 pm - 10.00pm. Woodmead Halls, Hill Road, DT7 3PG

Kill the Beast: He had Hairy Hands
The year is 1974, the sleepy town is Hemlock-Under-Lye, but all is definitely not well. When frequent werewolf attacks threaten teatime, there's only one person you can call. An award-winning comedy by Kill the Beast, He Had Hairy Hands is a 1970s detective werewolf mystery wrapped in a hilarious Hammer Horror. With echoes of An American Werewolf In London and Twin Peaks, this show is Wicker Man meets Scooby Doo, and The League of Gentlemen meets your fluffiest nightmare. Winners of the 2014 Peter Brook Festival Award, Kill the Beast promise hilarity, mystery and mayhem. Having splattered the UK with the acclaimed The Boy Who Kicked Pigs, they return with this new tale of supernatural slaughter - combining beautiful projections, original music and quite an important pigeon. Full Price: £11.00 Concessions £9.00 TheatreFriends discount available 8.00pm Running time: 1hr 10mins (approx) Age suitability: 12+ www.marinetheatre.com
November 7th & 8th Indian Bonfire Weekend -- inspired by Diwali
Saturday 10am-9pm & Sunday 9am-5pm Monkton Wyld Court, Dorset DT6 6DQ £98 per person for both days or £55 for Saturday (including lunch, dinner and 2 creative workshops) & £45 for Sunday (including lunch, a cooking workshop, and 2 arts activities).

Saturday 7th

Laying of wreaths
10.30am at the commonwealth war graves and a short service at the HMS Formidable memorial in Lyme Regis Town cemetery, followed by a short service at the Polish war Memorial in Anning Road (between Woodmead Road and Queens Walk junctions) at 11am

Jeremy Hardy
Jeremy's perhaps best remembered as a much younger man, but there is nothing he can do about that now. Still alive and able to speak unaided for lengthy periods, this comedy show will be not so much a one-man show, as an under-staffed cavalcade.
Jeremy Hardy begins his fourth decade as a stand-up this year. That's a more dramatic way of saying he started 31 years ago and, without a lottery win, probably has at least another 31 years to go. Last year, the tenth series of Jeremy Hardy Speaks to the Nation was broadcast on Radio 4. He is also well known for his appearances on The News Quiz and I'm Sorry I Haven't a Clue. Indeed, Alan Bennett recently said he likes him "but he's only on the radio". However, Jeremy isn't only on the radio. He is on the road all year round and has never stopped doing live shows since 1984. "In an ideal world, Jeremy Hardy would be extremely famous, but an ideal world would leave him without most of his best material." The Guardian 8.00pm Running time: 1hr 55mins (approx) Full Price: £14.00 Concessions: £5.00 (unwaged) Please note a 10% booking fee applies to all tickets for this event. www.marinetheatre.com

Fireworks
The display is Free! A collection will be made during the evening for local charities. Please give generously. 6.30pm Lyme Regis harbour followed by
Bonfire on the beach
lit by the mayor and mayoress
Sunday 8th Remembrance Day

Remembrance Sunday Parade
from Langmoor Gardens. All those wishing to parade please be there before 9.30am.
followed by
Remembrance Service
at St. Michael's Church, Church Street at 10am. Serving representatives from all of the Armed Forces are expected to attend in uniform.

Remembrance Day 'Come and Sing' Concert
Learn Rutter's glorious Requiem with Lyme Bay Chorale. St Michael's Parish Church. Starts at 11.30am with performance at 4pm. Contact Sally for more details 01297
444580. allegrosally53@btinternet.com
Wednesday 11th - Saturday 14th


Lyme Drama: Double Bill: Say something Happened
a short, one-act play by Alan Bennett, who has written such wonderful plays for Film, Theatre and Television. You may remember the 'Talking Heads' series, and plays such as 'The History Boys', 'The Lady in the Van', 'The Madness of George III', 'Forty Years On' and many more. This play concerns a newly retired couple, who are still sprightly and active, being visited by a well-meaning but somewhat naive social worker. The Social worker, just transferred from a previous job in local transport, clearly has much to learn. It's full of wry observation and gentle humour.
Black Comedy
Aspiring young sculptor Brindsley Miller has an important date tonight. A rich art collector is coming round to the flat to see his latest work. So also is his future father-in-law, the gorgeous Carol's dreadful Dad. Desperate to impress, Brindsley has 'borrowed' some fine furnishings from his absent neighbour's flat and all is now ready for the big evening.
Then there's a catastrophic power cut… Lyme Regis' own dramatic society, now renamed Lyme Drama, is proud to present this classic 1960s farce by Peter Shaffer, author of Equus and Amadeus. Come and enjoy witnessing Brindsley's big night as it descends into total chaos. Stage Door Bar and Coffee Bar will be open for refreshments 7.30pm Running time:
1hr 30mins (approx) www.marinetheatre.com
Wednesday 11th Armistice Day NATIONAL TWO MINUTES SILENCE at 11.00 am



Armistice Day Service.
At the Monmouth Street War Memorial, St Georges Square. 11am: Please be sure to arrive early.
Thursday 12th
A Little Chaos


RUNNING TIME: 117 mins A landscape gardener is hired by famous architect Le Notre to construct the grand gardens at the palace of Versailles. As the two work on the palace, they find themselves drawn to each other and are thrown into rivalries within the court of King Loui... Anyone is welcome to come to Silver Screen; you don't have to be over a certain age to enjoy these shows. A Silver Screen ticket is just £3.50, and that comes with a complimentary tea or coffee. 10.30am, The Regent Cinema



United Prayers
Lyme Regis and Uplyme Parish Churches, Lyme Regis Baptist Church and Bethany Chapel meet regularly to pray together, led by members of the church. Open to all. 7.30pm Uplyme Parish Church
Friday Nov 13th Last posting date for Contract Surface Air Lift to South America, Central America, Caribbean, Africa, Asia, Far East, New Zealand, Australia

Pauline Rook who specialises in portraiture and rural documentary work.
For further information please contact Mr Chris Sellers on 01297 442475 or see Lyme Bay Photographic Club 7.30 pm - 10.00pm. Woodmead Halls, Hill Road, DT7 3PG
Saturday 14th
Concerts in the West: SOPHIE ROSA violin, SIMON LANE piano


7.30pm THE HUB (NEW VENUE) Church Street, Lyme Regis, Dorset, DT7 3BS (Next to St Michael's Church) Bar, Disabled access. Box Office: Serendip Fine Books, 11 Broad Street, Lyme Regis, DT7 3QD 01297 442594 Tickets: £15 Concessions for students and children
Monday 16th



Fred MacCauly - Twenty Fifteen CANCELLED
It sounds like a wrong tennis score, but Twenty Fifteen is a hugely significant year for one of Scotland's best (and best loved) stand-up comedians. On the road again after 18 years at BBC Radio Scotland, Fred looks back on family life at home, and forward to how his country will shape up after the referendum. In his first tour since 2012 he'll look sideways too, as he takes in sport, the environment and, without this sounding too much like a brief for a newspaper, a colour-supplement swipe at 'celebrity'. Marine Theatre audiences will be very familiar with Fred's work from BBC Radio 4's The News Quiz, Bridget Christie Minds The Gap and The Unbelievable Truth. 8pm Running time: 1hr 30 mins (approx) Age suitability: 16+ Full Price: £14.00 Concessions £12.00 TheatreFriends discount available www.marinetheatre.com
Tuesday 17th - Saturday 21st

Guys and Dolls by Axminster Musical Theatre, Axminster Guildhall. Tickets from The Archway Bookshop or www.axminstermusicaltheatre.co.uk


Tuesday 17th Last posting date for International Economy (formerly surface mail) to Western Europe

Thursday 19th

Selma
R

UNNING TIME: 130 mins SELMA is the story of a movement. The film chronicles the tumultuous three-month period in 1965, when Dr. Martin Luther King, Jr. led a dangerous campaign to secure equal voting rights in the face of violent opposition. The epic march from Selma to M... Anyone is welcome to come to Silver Screen; you don't have to be over a certain age to enjoy these shows. A Silver Screen ticket is just £3.50, and that comes with a complimentary tea or coffee. 10.30am, The Regent Cinema



Friday 20th Last posting date for Contract Surface Air Lift to USA, Canada, Middle East


Live Music at The Hub with Mr Jean and Slinky Machine
What a great night this will be! Mr Jean are the funkiest band in town who play those old favorite dance floor fillers so that time has arrived again! "What time?!" you ask…Mr Jèan time! Bringing their inimitable sound to The Hub can only mean dancing, prancing, thinking, mingling, singing, shin-digging and hip wriggling, but not in that order. Slinky Machine are using this gig as their debut as a band. Cool jazz funk sounds. A licensed bar and food by 'Dottie Kitchen, will top off the evening brilliantly. Please come and support The Hub and The Red Arrows 2016! This is a joint fundraiser for The Hubs' renovation work and of course, summer isn't summer in Lyme Regis without the Red Arrows. 7.30-11.30. Tickets are £5 per adults and £3 under 18 years. Reserve tickets by texting 07967567132 or email diane@lrdt.co.uk. They can also be bought at LymeNet, St Michaels Business Centre, Church Street, Lyme Regis.

Saturday 21st
Christmas Bazaar


Cakes and Produce, Books, Homecrafts, Raffle, Bottle tombola, Bric-a-brac, Christmas items, games by the schoolchildren, refreshments and light lunches etc in aid of St Michaels Church and St Michaels School. Admission 50p, children free. 10.30 - 2pm Woodmead Hall

Christmas Gift Fayre
Free entrance. Local crafters and traders selling a range of products with many unique Xmas gifts. Browse the stalls in a relaxed and idyllic location. Refreshments available. 11:30am to 4:00pm at the Fairwater Head Hotel HAWKCHURCH. Enquiries: info@fairwaterheadhotel.co.uk or tel 01297 678349.

Johnny Warman's Magic Bus: The Total Who Show
As their Glastonbury performance attests, the passion, lyrics, and majesty of Pete

Townsend's music is burned into our psyche. The Total Who Show brings you two glorious hours of all the greatest hits from The Who. Brought to you by Johnny Warman's Magic Bus, the group pay tribute to The Who in their own unique way, capturing the power and pure adrenaline rush of the band. Magic Bus is made up of stunning musicians in their own right, who have written and performed with Elton John, David Bowie, Ringo Starr, Peter Gabriel, Asia, Julian Lennon, ABC, Cheap Trick, Bruce Springsteen, and Foo Fighters. United by the band they love, join them for Won't Get Fooled Again, My Generation, Pinball Wizard and more Doors: 7.15pm Onstage: 8.00pm Running time: 2hrs 20mins (approx) Full Price: £14.50 In advance: £12.50 Concessions £12.50 TheatreFriends discount available www.themagicbus.co.uk www.marinetheatre.com

Tuesday 24th

Antarctica, Wildlife and Explorer's huts
Joint talk by Roger Hull with Dorset Wildlife Trust and the Lyme Regis Society. 2.30 Woodmead Hall

Wednesday 25th



AGM followed by Talk 'History of Watercress Production in the UK'
by Charles Barter – Director of 'The Watercress Company' (Dorset & Hampshire) Uplyme and Lyme Regis Horticultural Society Non-members: temporary membership fee of £3. 7.30pm Uplyme Village Hall

Thursday 26th

Testament of Youth


RUNNING TIME: 130 mins Vera Brittain, irrepressible, intelligent and free-minded, overcomes the prejudices of her family and hometown to win a scholarship to Oxford. With everything to live for, she falls in love with her brother's close friend Roland Leighton as they go... Anyone is welcome to come to Silver Screen; you don't have to be over a certain age to enjoy these shows. A Silver Screen ticket is just £3.50, and that comes with a complimentary tea or coffee. 10.30am, The Regent Cinema

'Christmas Magic' Floral Art Demonstration
by Pam Burge, all arrangements will be raffled. Tickets £6 on the door, includes tea and cake. Proceeds to St Michaels Church. Woodmead Halls 2.30pm

Friday Nov 27th Last Posting Date for International Standard HM Forces Mail - British Forces Post Office® (BFPO) to Operational BFPOs

Christmas Street Fair and Lights switch on
5-7pm The Street, Charmouth

Guy Richardson with his Dartmoor time-lapse project
For further information please contact Mr Chris Sellers on 01297 442475 or see Lyme Bay Photographic Club 7.30 pm - 10.00pm. Woodmead Halls, Hill Road, DT7 3PG

Christmas Bingo
in aid of Cancer Research UK Eyes down 8pm Woodmead Halls


Saturday 28th
Switch-on Saturday – the switching on of the Lyme Regis Christmas Lights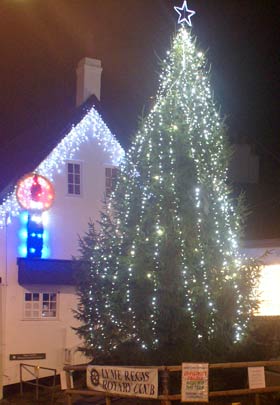 Make a lantern and help us switch on the Christmas Lights, the best in Dorset, here in Lyme Regis:


Switch on of the Christmas Lights. 5.30pm prompt -
Come early for the Lantern Parade and enjoy the atmosphere:
Join in the countdown - don't be late or you'll miss it! 5.30pm prompt The Christmas Tree, The Shambles, Broad Street

Father Christmas goes to the Cobb
Lyme Luggers perform at the Cobb
6pm Switch on of the Cobb lights

Incandescendo: A musical kaleidoscope of jazz, world and classical influences 
F

elix Gibbons is an internationally acclaimed percussionist specialising in the multiplicity of instruments that characterise the distinct rhythms of Brazil and Latin America. Emily Burridge is a classically trained virtuoso cellist, who, with her passion for Brazil, is energised by the country's rhythms and finds them a limitless source of inspiration for composing and improvising melodies. Together they create a unique and dynamic sound inspired by both their love of the English countryside and mutual association with Brazil, as the duo Incandescendo. Let them transport you with seductive melodies and their own mellow and melodic take on joyful Brazilian music. Their concert programme includes their arrangements of Brazilian classical and popular music, samba and choros and an array of new works for cello and percussion as they combine their many influences and create beautiful and exotic soundscapes. Doors: 7.15pm Onstage: 8.00pm Running time:1hrs 15mins (approx) Full Price: £14.00 Concessions £12.00 TheatreFriends discount available LYT Members can come for £1 Free to Lyme Regis Passport Holders www.marinetheatre.com

Christmas Auction
Lyme Regis Football Club 7pm


Sunday 29th November

Lyme Bay Chorale's Concert for Advent
is sure to thrill the audience with the genius of Mozart's music. They are performing Mozart's Litaniae KV243 and the Credo Mass KV 257. The Litaniae is a lesser known piece by the composer but when Alex Davies, the choir's Musical Director heard it performed, he fell in

love with it. "This rarely performed Litaniae is exquisitely beautiful and just as compelling as Mozart's better known Requiem" says Alex. " It was performed 10 years ago at the Colyton Parish Church Mozart Festival and I knew then I really wanted to direct it, and now I have got my chance!" Tickets for the concert are from Penny Black's Cafe and Lyme Regis Tourist information Centre, Tickets on the door £15: if bought in advance £13 saving £2.00/ head. Young people, 18 and under, go free. Includes a tasty buffet. 4pm St Michael's Parish Church, Lyme Regis. www.lymebaychorale.co.uk for more details. This concert supports Lyme Bay Chorale's Young Singers Bursary Scheme. Patron Sir Neville Marriner. CBE, CH


---
Sunday 13th November 2016 Remembrance Day