Friday 11th 2016 Armistice Day NATIONAL TWO MINUTES SILENCE at 11.00 am


Armistice Day Service.
At the Monmouth Street War Memorial, St Georges Square. 11am: Please be sure to arrive early.

Sunday 13th November 2016 Remembrance Day
Wednesday 23rd
'What to Grow in your Greenhouse'
by Mike Bur 7.30pm AGM followed at 8pm by TALK. Uplyme Village Hall Uplyme and Lyme Regis Horticultural Society
Tuesday 29th

Beavers in Devon
- restoring wetlands the natural way by Mark Elliot 2.30pm Woodmead Hall www.lymeregissociety.org.uk Visitors £3
---
November 2015 Events you may have missed
Wedding Fair


With music, fabulous local suppliers, coffee shop and bar, there are ideas and friends and lace and vintage china, so dumdetdidum all aboard...here come the brides, and anyone else seeking an entertaining afternoon in the company of friends and wedding suppliers. Here is the ultimate Princess bride to remind us of what it's all about: a Grace Kelly wedding clip 1956. Marine Theatre 12-4pm - free!
Last posting date for International Mail (formerly surface mail) to Cyprus, Eastern Europe, Greece, Iceland, Malta, Turkey

Chard PDI Selection evening.
For further information please contact Mr Chris Sellers on 01297 442475 or see Lyme Bay Photographic Club 7.30 pm - 10.00pm. Woodmead Halls, Hill Road, DT7 3PG
Indian Bonfire Weekend -- inspired by Diwali
Saturday 10am-9pm & Sunday 9am-5pm Monkton Wyld Court, Dorset DT6 6DQ £98 per person for both days or £55 for Saturday (including lunch, dinner and 2 creative workshops) & £45 for Sunday (including lunch, a cooking workshop, and 2 arts activities).

Laying of wreaths
10.30am at the commonwealth war graves and a short service at the HMS Formidable memorial in Lyme Regis Town cemetery, followed by a short service at the Polish war Memorial in Anning Road (between Woodmead Road and Queens Walk junctions) at 11am

Fireworks
The display is Free! A collection will be made during the evening for local charities. Please give generously. 6.30pm Lyme Regis harbour followed by
Bonfire on the beach
lit by the mayor and mayoress
Remembrance Day

Remembrance Sunday Parade
from Langmoor Gardens. All those wishing to parade please be there before 9.30am.
followed by
Remembrance Service
at St. Michael's Church, Church Street at 10am. Serving representatives from all of the Armed Forces are expected to attend in uniform.

Remembrance Day 'Come and Sing' Concert
Learn Rutter's glorious Requiem with Lyme Bay Chorale. St Michael's Parish Church. Starts at 11.30am with performance at 4pm. Contact Sally for more details 01297
444580. allegrosally53@btinternet.com

United Prayers
Lyme Regis and Uplyme Parish Churches, Lyme Regis Baptist Church and Bethany Chapel meet regularly to pray together, led by members of the church. Open to all. 7.30pm Uplyme Parish Church
Last posting date for Contract Surface Air Lift to South America, Central America, Caribbean, Africa, Asia, Far East, New Zealand, Australia

Pauline Rook who specialises in portraiture and rural documentary work.
For further information please contact Mr Chris Sellers on 01297 442475 or see Lyme Bay Photographic Club 7.30 pm - 10.00pm. Woodmead Halls, Hill Road, DT7 3PG
Concerts in the West: SOPHIE ROSA violin, SIMON LANE piano


7.30pm THE HUB (NEW VENUE) Church Street, Lyme Regis, Dorset, DT7 3BS (Next to St Michael's Church) Bar, Disabled access. Box Office: Serendip Fine Books, 11 Broad Street, Lyme Regis, DT7 3QD 01297 442594 Tickets: £15 Concessions for students and children
Tuesday 17th - Saturday 21st

Guys and Dolls by Axminster Musical Theatre, Axminster Guildhall. Tickets from The Archway Bookshop or www.axminstermusicaltheatre.co.uk


Last posting date for International Economy (formerly surface mail) to Western Europe



Last posting date for Contract Surface Air Lift to USA, Canada, Middle East


Live Music at The Hub with Mr Jean and Slinky Machine
What a great night this will be! Mr Jean are the funkiest band in town who play those old favorite dance floor fillers so that time has arrived again! "What time?!" you ask…Mr Jèan time! Bringing their inimitable sound to The Hub can only mean dancing, prancing, thinking, mingling, singing, shin-digging and hip wriggling, but not in that order. Slinky Machine are using this gig as their debut as a band. Cool jazz funk sounds. A licensed bar and food by 'Dottie Kitchen, will top off the evening brilliantly. Please come and support The Hub and The Red Arrows 2016! This is a joint fundraiser for The Hubs' renovation work and of course, summer isn't summer in Lyme Regis without the Red Arrows. 7.30-11.30. Tickets are £5 per adults and £3 under 18 years. Reserve tickets by texting 07967567132 or email diane@lrdt.co.uk. They can also be bought at LymeNet, St Michaels Business Centre, Church Street, Lyme Regis.
Christmas Bazaar


Cakes and Produce, Books, Homecrafts, Raffle, Bottle tombola, Bric-a-brac, Christmas items, games by the schoolchildren, refreshments and light lunches etc in aid of St Michaels Church and St Michaels School. Admission 50p, children free. 10.30 - 2pm Woodmead Hall

Christmas Gift Fayre
Free entrance. Local crafters and traders selling a range of products with many unique Xmas gifts. Browse the stalls in a relaxed and idyllic location. Refreshments available. 11:30am to 4:00pm at the Fairwater Head Hotel HAWKCHURCH. Enquiries: info@fairwaterheadhotel.co.uk or tel 01297 678349.

Antarctica, Wildlife and Explorer's huts
Joint talk by Roger Hull with Dorset Wildlife Trust and the Lyme Regis Society. 2.30 Woodmead Hall



AGM followed by Talk 'History of Watercress Production in the UK'
by Charles Barter – Director of 'The Watercress Company' (Dorset & Hampshire) Uplyme and Lyme Regis Horticultural Society Non-members: temporary membership fee of £3. 7.30pm Uplyme Village Hall

'Christmas Magic' Floral Art Demonstration
by Pam Burge, all arrangements will be raffled. Tickets £6 on the door, includes tea and cake. Proceeds to St Michaels Church. Woodmead Halls 2.30pm

Last Posting Date for International Standard HM Forces Mail - British Forces Post Office® (BFPO) to Operational BFPOs

Christmas Street Fair and Lights switch on
5-7pm The Street, Charmouth

Guy Richardson with his Dartmoor time-lapse project
For further information please contact Mr Chris Sellers on 01297 442475 or see Lyme Bay Photographic Club 7.30 pm - 10.00pm. Woodmead Halls, Hill Road, DT7 3PG

Christmas Bingo
in aid of Cancer Research UK Eyes down 8pm Woodmead Halls


Switch-on Saturday – the switching on of the Lyme Regis Christmas Lights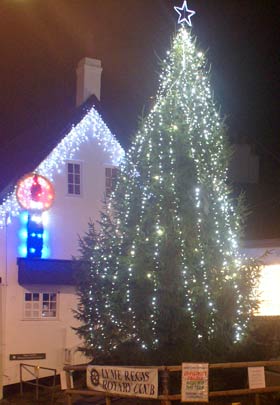 Make a lantern and help us switch on the Christmas Lights, the best in Dorset, here in Lyme Regis:


Switch on of the Christmas Lights. 5.30pm prompt -
Come early for the Lantern Parade and enjoy the atmosphere:
Join in the countdown - don't be late or you'll miss it! 5.30pm prompt The Christmas Tree, The Shambles, Broad Street

Father Christmas goes to the Cobb
Lyme Luggers perform at the Cobb
6pm Switch on of the Cobb lights


Christmas Auction
Lyme Regis Football Club 7pm


Sunday 29th November

Lyme Bay Chorale's Concert for Advent
is sure to thrill the audience with the genius of Mozart's music. They are performing Mozart's Litaniae KV243 and the Credo Mass KV 257. The Litaniae is a lesser known piece by the composer but when Alex Davies, the choir's Musical Director heard it performed, he fell in

love with it. "This rarely performed Litaniae is exquisitely beautiful and just as compelling as Mozart's better known Requiem" says Alex. " It was performed 10 years ago at the Colyton Parish Church Mozart Festival and I knew then I really wanted to direct it, and now I have got my chance!" Tickets for the concert are from Penny Black's Cafe and Lyme Regis Tourist information Centre, Tickets on the door £15: if bought in advance £13 saving £2.00/ head. Young people, 18 and under, go free. Includes a tasty buffet. 4pm St Michael's Parish Church, Lyme Regis. www.lymebaychorale.co.uk for more details. This concert supports Lyme Bay Chorale's Young Singers Bursary Scheme. Patron Sir Neville Marriner. CBE, CH


---