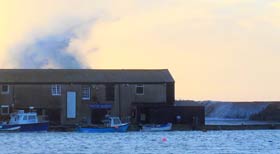 February 2022 dates

Tuesday 1st February 2022
<![if !supportLineBreakNewLine]>
<![endif]>
Chinese New Year

Saturday 5th February
Uplyme & Lyme Regis Horticultural Society Informal coffee morning for members and anyone who wishes to find out more about the Society and its 2022 programme, or who is thinking of joining the Society. Potato tubers for the Potato in a Bucket competition at the Summer Flower and Produce Fair will be available to buy at £3 each. 10am-12noon. Uplyme Village Hall. www.ulrhs.wordpress.com

Top 40 Singer to play in Lyme Regis: Benjamin Francis Leftwich is an exceptionally creative English singer-songwriter who has recently released his fourth album - To Carry a Whale. It has been deemed the most significant since his 2012 debut. The album was produced by Sam Duckworth (Get Cape. Wear Cape. Fly) with Eg White (Adele, Florence & The Machine, Sam Smith). He will be playing at the Marine in Lyme Regis on Saturday 5th February 2022. Leftwich's music has previously drawn comparisons with contemporaries such as Damien Rice and Jose Gonzalez. He started singing and playing guitar at age 10, and cites The Rolling Stones, Bon Dylan, Nina Simone, and Bruce Springsteen as inspirations.
The title of his latest album alludes to his former addiction to alcohol; he became sober after a spell in rehab in 2018. It is an intensely personal album, as Leftwich explains: 'I wanted it to be called To Carry a Whale, which is about living with something heavy which is also beautiful, and it really enabled us to be very focused within the creative process and even in the visual aesthetic process with the label after we'd signed off on the masters. I know what every song is about, this my story, I want to tell it so maybe it will help someone else. It's helped my songwriting in a way I'm less fearful, I'm not as scared of singing 'I love you' if I need to.'
Tickets cost £14 in advance and the show starts at 8:00 P.M. www.marinetheatre.com
Friday 11th February 2022



THE PASADENA ROOF ORCHESTRA
An evening of rare musical entertainment ~ The Financial Times With an unparalleled reputation across the UK, Europe and beyond, for over 50 years the Pasadena Roof Orchestra have been re-creating the sounds of a golden era of music from the 1920s and 1930s to widespread acclaim. They are one of the Queen's favourites. Enjoy beautifully arranged songs from Irving Berlin, Ray Noble, Cole Porter and their contemporaries and relive the electrifying hot jazz from Fletcher Henderson and Duke Ellington. £25.00 advance / £30.00 on the door | 10% discount for members
www.marinetheatre.com
Monday 14th Valentines Day


Thursday 17th February to Friday 25th February

Half Term
Thursday February 17th

Company Gavin Robertson - Done to Death, By Jove!


The British Detective Genre – gone wrong! Holmes and Watson meet Poirot and Miss Marple (alongside the usual suspects) in a spoof homage - who murdered Lady Fanshawe? Why is Matron Maudesly so friendly with one of the guests at the Clinic of Hopes and Cures? Why have the sound cues got mixed up?
A cast of six set about bringing a group of suspects and sleuths together to discover whodunnit, and how… except four of the actors are stuck in the van by the side of the motorway, and only those two knights of the Theatre, Sir Gavin and Sir Nicholas, have managed to get to the venue; but 'the show must go on'!
Expect a whirlwind of fast costume changes and misdirected acting hiccups in a show where even the set's gone missing! Touring Dorset with Artsreach. Recommended 12+
Wootton Fitzpaine Village Hall at 7.30pm Doors open at 7pm Tickets: £10 (U18:£5 Fam:£25) suitable for 12+ For information and tickets please contact 01297 560948 or book online at Artsreach.co.uk
Closed bottle bar and raffle. All proceeds to the upkeep of the hall. Please note: tickets are limited due to Covid restrictions.
Mask wearing, sanitisation, distancing and ventilation will be employed and encouraged to help keep everyone safe. Please do not attend if you are unwell or at risk of carrying Covid.
SATURDAY 19 FEBRUARY 2022


NUBIYAN TWIST "A beautiful blend of groove music with uplifting horns and soulful vocals" ~ The Guardian
In Nubiyan Twist, a blend of virtuosic players, skilled producers and inspired composers join forces under the leadership of multi-instrumentalist & producer Tom Excell. This infectious and powerful 10-piece big band sound recently played on Later...with Jools Holland. Nubiyan Twist draw on jazz, afrobeat, Latin, soul, and dance music. Expect ultra-tight musicianship and dancing! £15.00 early bird / £17.00 standard / £21.00 on the door 10% discount for members www.marinetheatre.com
Wwednesday 23rd February

Talk - Glorious Trees, Sir Ghillean Prance FRS, VMH.
Uplyme & Lyme Regis Horticultural Society. Lyme resident Sir Ghillean is a celebrated botanist, plant collector and author who will share his lifelong enthusiasm for trees with an emphasis on Amazonia. A great start to the Society's year of celebrating trees. 7.30pm, Uplyme Village Hall. Refreshments from 7pm. Members free; guests £3. www.ulrhs.wordpress.com
FRIDAY 25 FEBRUARY 2022
FLEETWOOD BAC Did you know that Fleetwood Mac played here in the seventies? It's not just rumours. While our invitations to return remain outstanding, we're still very pleased to welcome the world's first and best Fleetwood Mac Tribute Band. They were endorsed by the towering Mick Fleetwood and the only one to replicate the 'Rumours' line-up. Over the years Fleetwood Bac have received favourable reviews from 'The Stage', Fleetwood Mac fansites, and even Stevie Nicks' own website. £17.50 early bird / £20.00 advance
www.marinetheatre.com
SATURDAY 26 FEBRUARY 2022

BLAZIN' FIDDLES

"the Led Zeppelin of the folk world" ~ The Scotsman
One of the world's most prolific fiddle groups, Blazin' Fiddles, formed for a one-off tour of the Scottish Highlands in 1999 are still raising roofs far and wide well over two decades later. Encompassing a rare and virtuosic selection of the fiddle's diverse Highland and island voices, with ensemble and solo-led sets the band is backed by powerhouse guitar and piano.
Blazin' Fiddles pack all the power, passion and sensitivity of Scotland's traditional music into a single show.
£18.00 advance / £22.00 on the door | 10% discount for members
www.marinetheatre.com
---
Click here to see all the
Regular Events Over 70 activities
Dogs regulations
Dogs need to be on a lead all year on


Marine Parade, Cart Road, Gun Cliff, Church Cliff Walk, the Harbour, the Cobb, Lister & Langmoor Gardens

Lyme Regis front beach:
Permitted on leads 1st October - 30th April
Dogs are banned
from 1st May until 30th September

Dogs allowed all year
Monmouth Beach, Cobb Gate & East Beach.

Charmouth Beach:
no dogs from 1st May to 30 September.

Dog waste must be cleared up and disposed of properly and dogs must be under the handler's control at all times. Failure to comply may result in a fine or prosecution.
Please check notices locally to verify this information
What's on in The Galleries

Paintings by Dianne Mary Alice
19 January until 6 March
the Rotunda Gallery, Lyme Regis Museum

Dianne Mary Alice is a professional artist who came to be living by the sea in Dorset via West London and the French canals. She started taking art classes after retiring from a career in fashion, textiles and garden design. An Artist's Journey is her first solo exhibition, and it runs from 19 January until 6 March at the Rotunda Gallery, Lyme Regis Museum.
Dianne's impressionistic and spontaneous approach captures images and forms from the natural world experimenting with all mediums, usually using a palette knife and just a few colours. Her inspiration comes from big skies, landscapes, plants, flowers and the sea. Sketches and line drawings are done plein air when possible, often moving on to underpainting in acrylic and ending with oil. She started exhibiting three years ago with Dorset Arts Weeks and belongs to Lyme Bay Arts, Artwey and Casterbridge Art societies.
For further information about opening days and times, please visit www.lymeregismuseum.co.uk.
Don't get cut off by the tide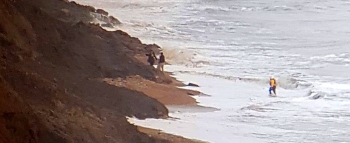 Nick Marks, Lifeboat Operations Manager said "We would encourage any visitor to the area to check tide times before walking along the beach near Lyme Regis or Charmouth. The local area experiences very high tides at times, so it is very important to check."

If you see anyone in trouble in the sea, call 999 and ask for the coastguard.

Guided Walks and Tours
Fossil Walks

Rocks and Fossil Weekend
Charmouth Heritage Coast Centre Booking Advised: Tel 560772

Fossil Fantastic Weekend
Charmouth Heritage Coast Centre: Booking Essential Tel 560772

Daily Fossil Walks
Sat - Tues with Brandon Lennon from the anchor, Cobb Gate Tel 07944 664 757
Volunteers wanted
for Lyme Regis Regatta and Carnival Committee
or email lymeregis.carnival@mac.com
Books to your Door
Unable to get to the Library? Housebound?
If you are housebound or unable to get to your local

library, we may be able to arrange for books to be delivered to your home, free at regular intervals by volunteers.
We offer a wide range of fiction as well as information books on country life, cookery, travel, biography and other popular subjects. You can request specific books or subjects.
Large print books are available as well as talking books for people with sight problems, illness or other disabilities.
Books and talking books are delivered to your home by volunteers. All staff and volunteers always carry identity cards. Visits are usually every three weeks. There is no charge for our Home Library Service.
For more details, contact your local library and a member of staff will call to see if we can help you to use the library service.