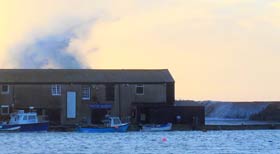 February 2023 dates

Monday 6th February 2023
Soup & Ploughman's Lunch
An annual event held in the Alexandra Hotel Lyme Regis.


Vegetarian soup followed by a Ploughman's lunch then coffee in the lovely surroundings of the Alexandra Hotel. In aid of Water Survival Box. 12pm prompt. Tickets £10 from local Rotarians
Thursday 9th February- Monday 20th February 2023


Half Term
Saturday 11th February 2023

Uplyme & Lyme Regis Horticultural Society Informal coffee morning Everyone welcome. The container and tuber for the summer show potato competition class will be on sale for £3.
10am-12noon. Uplyme Village Hall. www.ulrhs.wordpress.com

Tuesday 14th 2023 Valentines Day

A concert of choral favourites this February
Lyme Bay Chorale is joining forces with students and staff from The Woodroffe School for our next performance.
Our concert of choral favourites, conducted by Helen Webb and Alex Davies, will include music by Handel, Parry and Kodály. Woodroffe students Oriel Chapman (organ) and Hetty Christopher (trumpet) will also play solo instrumental pieces.
St Michael's Church, Lyme Regis at 4pm Admission free with a retiring collection in aid of Lyme Bay Chorale's bursary scheme for young people

Monday 20th February 2023 Back to School
Tuesday 21st 2023 Shrove Tuesday: Pancake Day
Wednesday February 22nd 2023

TALK. 'The Secret Lives of Garden Bees' by Jean Vernon.
Bee addict Jean explores the weird but wonderful world of the bumblebees and solitary bees found in your garden, from buzz pollination to bee robbers. Jean's books on sale 7.30pm, Uplyme Village Hall. Refreshments from 7pm. Members free; guests £3. www.ulrhs.wordpress.com
Tuesday 28th February 2023


The Lyme Regis Society present A Talk
Lyme Regis Hospitals: Myths, Murals and Maternity Wards by Rachel Pope
To be held at 2pm Woodmead Halls, Hill Road, Lyme Regis. DT7 3PG
---
Dates to be advised
BEACH LITTER PICK
All invited to help with a litter pick. It's fun.. great to be outside and helps keep our beaches clean, safe and welcoming. Families welcome; children under 16 do need to be supervised. Wear sturdy shoes and bring gloves. Afterwards, there will be a chat over coffee about ideas for future plans.
Dogs

Lyme Regis Front Beach:
Dogs permitted on leads
1st October - 30th April

Dogs allowed all year off lead
Monmouth Beach,
Church Cliff & East Cliff (Back) Beach.

Please check local notices and see https://www.lymeregistowncouncil.gov.uk/beaches
for detailed info

What's on in The Galleries


PORTRAITS OF GOLDEN CAP
18th January - 5th March 2023
Local artist Edward Hall draws his inspiration from the dramatic coastal and inland landscapes of Dorset's Jurassic Coast. His latest exhibition, 'Portraits of Golden Cap', explores the iconic form and setting of this highest point on the south coast.
After a career as a chartered landscape architect that left little time for painting, Hall made a recent lifestyle change that resulted in a move to West Dorset. Living in Ryall, the village on the slopes of Hardown Hill between Lyme and Bridport, he didn't have to venture far from home to be inspired to make his earlier series of paintings entitled 'A Year on Hardown Hill'. He has created this all-new collection of oil paintings specifically to exhibit in the unique space offered by Lyme's Rotunda Gallery. The nature and arrangement of its walls suggested to him a series of vertical portraits, rather than the usual horizontal landscapes. He found that creating portrait paintings of landscape subjects presented a particular challenge and demanded a different approach to composition, resulting in a fascinating emphasis on foreground.

Rotunda Gallery, Lyme Regis Museum, Bridge Street, Lyme Regis DT7 3QA

open Tuesdays-Sundays from 10am until 4pm.

Don't get cut off by the tide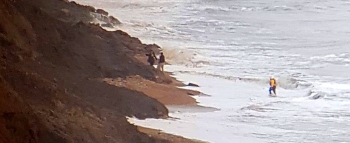 Nick Marks, previous Lifeboat Operations Manager, said "We would encourage any visitor to the area to check tide times before walking along the beach near Lyme Regis or Charmouth. The local area experiences very high tides at times, so it is very important to check."

If you see anyone in trouble in the sea, call 999 and ask for the coastguard.
Guided Walks and Tours
Fossil Walks

Rocks and Fossil Weekend
Charmouth Heritage Coast Centre Booking Advised: Tel 560772

Fossil Fantastic Weekend
Charmouth Heritage Coast Centre: Booking Essential Tel 560772

Daily Fossil Walks
Sat - Tues with Brandon Lennon from the anchor, Cobb Gate Tel 07944 664 757
Volunteers wanted
for Lyme Regis Regatta and Carnival Committee
or email lymeregis.carnival@mac.com
Books to your Door
Unable to get to the Library? Housebound?
If you are housebound or unable to get to your local

library, we may be able to arrange for books to be delivered to your home, free at regular intervals by volunteers.
We offer a wide range of fiction as well as information books on country life, cookery, travel, biography and other popular subjects. You can request specific books or subjects.
Large print books are available as well as talking books for people with sight problems, illness or other disabilities.
Books and talking books are delivered to your home by volunteers. All staff and volunteers always carry identity cards. Visits are usually every three weeks. There is no charge for our Home Library Service.
For more details, contact your local library and a member of staff will call to see if we can help you to use the library service.