From the Group Co-ordinator, Penny Rose
February
The DIGITAL PHOTOGRAPHY GROUP is now in its second year and still has a core from the Class of 2017 that came from John Marriage's Photography Beginner's Course. We continue to try to develop our camera operations skills whilst having some fun at the same time. Last term we experimented with different shutter speeds. At short and at long shutter opening times we discovered a wide range of pictures that could not have been captured by human sight. This term we are studying the fundamental rules of composition. Next term we hope to have several short outings to put all the theory we have learnt into practice - well that is the idea anyway. Time will show. The group meets on alternative Tuesday afternoons. There are 7 of us on the group at present of varying ability and there is room for more members now. New members are welcome to try us out. If you are interested please contact me, Mark Gillams on mark.gillams@gmail.com.
BEGINNERS DIGITAL PHOTOGRAPHY. John Marriage is willing to start another beginners group if he has enough requests. Please contact him on 01297 443469
The SUNDAY LUNCH CLUB ONE is still going strong with usually 12+ members attending. We have three favourite venues which must be included every year, including the Lord Lease Hotel at Chard for our Christmas event. During the year two members celebrated 90th birthdays, joining another member who is 90 plus. Age certainly doesn't matter - all three ladies never miss, and two are founder members. This year we have two new venues to try which will be interesting. Finally, all the members are very loyal and supportive so I am blessed to have such a lovely group.
D Wilkinson 01297 678639
The STROLLERS GROUP would like to welcome additional members to our easy walking group. The walks are ideally selected and led by members in turn and take place each Monday at 2.15 for an hour or so, weather permitting. Members select walks to avoid scrambling up hillsides, and for decent walking surfaces. Some members walk with walking sticks or poles. Do come and try our walks! Please phone Jan Robertson on 01297 560450.
The SCOTTISH COUNTRY DANCE GROUP will continue to meet at Woodbury Community Hall, just off the road from Axminster to Raymond's Hill on Monday mornings between 10:00 and 1200. Teaching is progressive and after a short warm-up, we normally have time for 4 or 5 dances plus a break for refreshments. We finish for the summer in May. Do join us!
Sue Taylor 01297 551445
The GEOLOGY GROUP is fully booked for the 2018-19 session and well under way.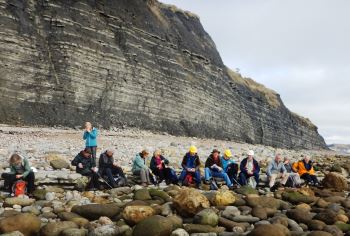 Geoff Townson is currently taking "Expressions of Interest" for Oct 2019 – May 2020. In early April Geoff will send information and a questionnaire to people who have contacted him. The closing date for return of the questionnaire is end-April. Ten places will be offered in May. In September, pre-course info will be sent out for the start in October. Dates have yet to be chosen but it is always irregularly-spaced Tuesdays (pm for indoor meetings, all day for field trips). For more information on Geoff, go to http://www.geofftownson.co.uk/a1-page.asp?ID=3284&page=7
The CURRENT AFFAIRS GROUPS 1 AND 2 are looking for new members. They meet on alternate Tuesdays from 10:15 to 12:30 If you are interested , please contact Iain Paterson on 01297 631193.
The POETRY READING GROUP meets on the first Wednesday of each month in the afternoon to read and share our enjoyment of poems of all kinds from all periods. Each month we have a chosen poet and everyone chooses one of their poems in advance. We also choose a second poem which is a free choice. At the meeting we take it in turns to introduce the chosen poet. Each of us then reads out their chosen poem. After some discussion, we then go around again and read out the free choice poems. The meeting concludes with tea and cake which we take it in turn to provide. Whether your taste is for John Donne, John Milton, John Masefield or John Betjeman why not come to a trial session and give us a try. We would welcome you! Kevin Benfield , 01297 446066 or kevin@wordsonwords.co.uk
The MIDDLE EAST GROUP will be a beginner's understanding of the Israeli Palestine conflict – for 4 weeks, fortnightly, starting 1st May, Guildhall at 2.30pm. Please contact Maureen D'Albertanson 01297631025
The PLAY READING GROUP would like several more members, to help share out the reading of different parts of the plays we read. We meet fortnightly on Mondays at 2:00pm. Please contact Frances Barter 07986 794722 or frances.barter@hotmail.com
The WALKING GROUP 2 meet fortnightly alternating with Walking Group 1. We meet at Uplyme Village Hall car park. We walk for about 1½ hours covering a distance of approximately 3 miles. We welcome new walkers. Please contact Marion Richardson 01297 33824
The GARDEN LOVERS GROUP will, as usual, start its year with a meeting in the spring in the Woodmead Hall (date to be confirmed). 10 or so garden visits will be arranged for the summer months. This year I am proposing that some of these be coach trips which will enable us to travel a little further than usual and will make available to us some great new gardens which until now have been too far for car-sharing. Mary Bohane (Group Leader) 01297 444566.
The BOOK GROUPS 1 and 2 are currently full and have waiting lists. So far, we have four people on the waiting list. If a sufficient number of people want to join a book group, we would be willing to help set up a new, third reading group. The people in the new group could then agree amongst themselves which day to meet. One person would have to be willing to take on leadership of the group. Anyone who wants to go on the waiting list should contact either of the current reading group leaders:
Dawn Armstrong dawnjarmstrong@gmail.com or
Jo Marsh jmwmarsh@gmail.com
The BIRD INTEREST GROUP We usually meet on the last Friday of the Month. Mornings at 10 am at a given site, or occasionally evenings in the summer. I send out news of bird sightings when I can and Roger (Boswell) sends in lovely photos of local birds. On our last walk, along the front in Lyme to the Cobb and Harbour. we were really lucky, with Roger's help in seeing lots of quite rare birds, about 15 Purple Sandpipers, the lone young Eider Drake (blown in on a storm just before Christmas), Ringed Plover, an endearing group of Turnstones and our favourite little Lyme Rock Pipits. We loved the row of Cormorants on the bar at the end of Victoria Pier with their wings hanging out to dry! These were the highlights, many others seen and heard. To crown it all it was a most beautiful day, blue sky and a warm sun on our backs. Our next meeting will be on Friday, 22nd February, 10 am at Chard Reservoir in the hope that the Great Crested Grebes will perform their magical display for us. Last year we also had Coots skating on ice! Never a dull moment. Marjorie Waters 01297445388

The CHI GUNG GROUP [ or as it is sometimes known Qigong, Qi gong, Chi kung, or Chi gung!] is a holistic system of coordinated body posture and movement, breathing, and meditation used for the purposes of health. We meet every Tuesday at 17:30 at the St Michael's Church Hall for an hour's stretching, breathing and relaxation with a 15 minute Meditation to finish. This leaves us de -stressed and chilled out. It never fails! Do join us! Dave Edwards 01297 443696
The COMPUTER LEARNING GROUP (2 people at a time) meet once a week on Wednesdays for a couple hours for up to eight sessions in learners homes. It aims to give people more confidence in using the computer, ipad or such. Often people discover about things they had never thought about. The beauty is that there is no pressure and the atmosphere is very relaxed so that everyone learns something - often myself included. Try it and be pleasantly surprised. It's free!
Klaus Wagner - 01297 792978
The 'FRENCH FOR FUN' group continues to thrive; we are enjoying 'brushing up' our French and we have also been lucky recently to have some help from a delightful French lady who is living locally for a year. The photo shows some of the group living up to the 'Fun' part of our name at our New Year Party, which included a traditional 'Galette des Rois' Epiphany Cake. The Group is full and we have a short waiting list. Kay Luckraft 01297599416
The RARE BOOKS GROUP is a new group which will meet monthly at 7.30 pm on the first Friday of the month, starting on April 5th or, possibly, the fourth Friday of the month, starting March 22nd.
Venue: Rare Book Room. The Sanctuary Bookshop 65 Broad Street. Lyme Regis.There is free off road parking adjacent. At the first meeting, we will sound out people's preferences re timing, dates, and program, etc.
Bob Speer 01297 445815
POSSIBLE NEW GROUPS? If interested in these suggestions please contact Penny Rose 01297 561076 or pennyrose2009@gmail.com
PAINTING TOGETHER: is anyone interested in co-ordinating, but NOT teaching, or joining a group of members who would like to paint together.

HISTORY GROUP and ARCHAEOLOGY GROUP: We have had requests for these two areas but we would need leaders? Have we recently retired history/archaeology teachers or in our U3A or somebody with a passion for history/archaeology who could lead one of these groups?
Please will all members note the following:
If you are emailing members of groups, whether group leaders or not, do check that they wish their e-mail addresses to be seen by all. It is best to use the BCC [Blind Carbon Copy] for ALL multiple messages if you are uncertain. This means that any given recipient will only see their own e-mail address and the sender's. Failure to do this means that the name and e-mail address are shared with all other recipients without their prior consent. This would be in breach of the GDPR requirement established in 2018
---