What's on in October 2023

October 3rd (Tuesday)



Compton Acres COACH TRIP
departs 9.15am. 10 acres of beautiful gardens and woodland with lovely views over Poole Harbour and the Purbeck Hills. Japanese and Italian gardens, rock garden and wooded valley. Tearoom, plant sales and shop. £20. see www.ulrhs.wordpress.com
October 7th (Saturday)

AUTUMN SHOW AND COFFEE MORNING.
A fun, informal event with classes for produce, flowers, preserves and baking, all judged by public vote. Plant donations for Society stall welcomed. Show open to all, free of charge. 10am to 12 noon. www.ulrhs.wordpress.com
Friday 13th

Lyme Regis U3A Autumn Coffee Morning/meet a Group Leader

Commencing at 10am at the Woodmead Halls and lasting a couple of hours. Many of our Group Leaders will be there to talk about their groups and to fill any vacancies they have. This is your chance to join a group which suits you. It will also be a great opportunity to talk to Group Leaders and committee members about starting and running your own group. The Groups Co-ordinator will also be available to explain how the committee provides support and advice for all of our Group Leaders.
The event is open to non-members so please bring along friends, acquaintances or relatives to learn about a portion of the activities that our u3a has to offer.
Saturday 14th October

SOUP & SWEET LUNCH & CAKE STALL
to help raise funds for Cancer Research UK
12 -2pm Woodmead Halls, Hill Road
£8 per person for Soup, bread and dessert
Tuesday 17th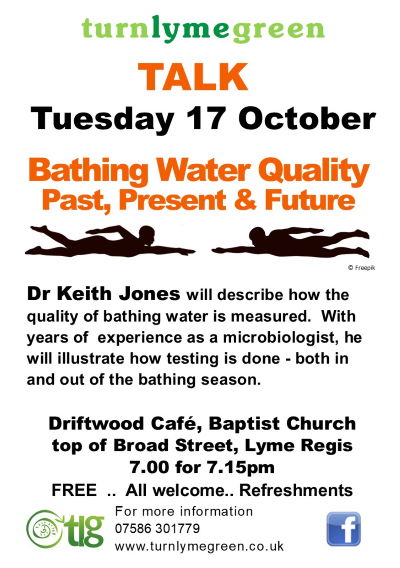 20th OCTOBER 2023


Half Term break begins
Tuesday 24th October


The Lyme Regis Society presents a Talk: 'Art Amongst The Dinosaurs'
by Karol Kulik

For a number of years, Karol Kulik has been organising the art exhibitions in the very top of the Lyme Regis Museum, a space known as the Rotunda Gallery. Itís a pretty, tiny space, but for solo exhibitions of 6-8 weeks duration itís ideal.
Of course, the majority of visitors are expecting dinosaurs, so what can local artists produce that makes up in some way for the lack of scary fossils?
Well, in this talk, Karol will give you a roller coaster ride through the work of around 30 Lyme Regis artists who have bravely met the challenge.
2pm at Woodmead Halls. All welcome. Visitors £3.00. Card Payment available Members Free. Including Refreshments Socially distanced seating is available if required.
October 25th (Wednesday)

TALK. ĎThe Wonderfully Versatile Roseí by Michael Marriott. Michael is a world-renowned rosarian, formerly spending 35 years with David Austin Roses, so who better to learn from about these wonderful plants. Please note that the charge for non-members is £5 for this talk. 7.30pm Uplyme Village Hall www.ulrhs.wordpress.com

Saturday 28th 2023
British Summer Time ends overnight (2am Sunday becomes 1am): Time to turn your clocks BACK
Sunday 29th 2023

Have you changed ALL your clocks? It may be earlier than you think!
Monday 30th October

---

Parking Permits for Lyme Regis Residents
Apply for/renew your permit online

Applications require a full residents council tax bill and vehicle registration document showing the same address.

see www.lymeregistowncouncil.gov.uk

What's On at the Galleries October


Mysterious Adventures:

Paintings by David Brooke
11th October - 26th November 2023

David Brookeís paintings create a sense of mystery as people embark on unexpected adventures such as riding on the back of a large fish, or running across the landscape carrying a burning tree. The paintings themselves are meticulously built up in many layers of acrylic paint creating texture and detail. The style has a look of medieval book illuminations but with a contemporary twist.
Tuesdays-Saturdays from 10am until 5pm/Sundays 10am-4pm; check website www.lymeregismuseum.co.uk for holiday openings and admission charges
Rotunda Gallery, Lyme Regis Museum, Bridge Street, Lyme Regis DT7 3QA
Country and Modern Line Dance Group

The village Hall, Wesley Close, Charmouth. Small donation to cover Hall hire fees.
Contact Andrea 01297 561083 for more information
Guided Walks and Tours
Liz Jones Memorial Walks
Liz Jones loved walking and sourced over seventy circular walks in the area. For several years she and her husband David led the U3A Walking Group and after she died in April 2013 members of this group decided to make some of her walks available to a wider audience as a tribute.
The Group would like to thank David Jones for his leadership and all his support for this project - re-walking each route and checking our efforts. Our thanks also go to Susie Gamble for creating the model for the walk maps, Sue Wilson for her layouts and technical expertise and Maurice Liddiard for coordinating the project. Click here for more info

FOSSIL HUNTING WALKS

Get Fossilling on the Jurassic Coast! Join one of Lyme Regis Museumís famous fossil walks along this historic stretch of Dorset coast with Geologist Paddy Howe and Marine Biologist Chris Andrew. Some families return time and again to search with Paddy and Chris among the sand and rocks for fossils that have been washed down onto the beach after 190 million years. For adults and children alike, itís an unforgettable experience.

Enchanted Floodlight Gardens
Candle-lit pathways through enchanted glades, magical lighting
Christmas Shopping and great food

Abbotsbury Subtropical Gardens 01305 871130


Flu Vaccination
Lyme Bay Medical Practice

Lyme Regis Medical Centre 445777

Charmouth Medical Practice 560872