Friday September 2 to Sunday September 4
Lyme Folk Weekend 2022


Lyme Regis, Dorset

We are thrilled to confirm that returning for our opening night headline concert at the Marine Theatre will be the brilliant Sam Sweeney with his band, who will be performing material from the wonderful Unearth Repeat album. If you saw Sam in 2019 with his Unfinished Violin show, you will know what to expect
Thursday 15th September.
Lyme Regis Carers' Café
The Driftwood Café, The Baptist Church, Lyme Regis The Third Thursday of every month – From 11am till 1pm – stay all morning or just drop in. Anyone who looks after a friend, relative, partner or neighbour is welcome. You do not have to be a registered carer. lymeregiscarerscafe.co.uk
22nd September 2022
Autumnal Equinox: The Autumn Equinox is the first day of the autumn season and occurs

when the sun passes the equator moving from the northern to the southern hemisphere. The sun is directly overhead at the equator and day and night are of approximately equal lengths. At equinox, the Sun rises everywhere on Earth (except the Poles) at about 6am in the morning and sets at about 6pm in the evening (though this can vary a little when time zones and daylight saving etc are taken into account).
September 28th Wednesday


TALK. 'Herbs: A Taste of the Unexpected' by Mark Diacono. A look at less familiar herbs, how to grow and get the best from them in the kitchen. Mark – a writer, cook, gardener, photographer and twice winner of the Food Book of the Year – will tempt our tastebuds with a couple of garden cocktail tasters too. 7.30pm Uplyme Village Hall. Members free; guests £3. www.ulrhs.wordpress.com

Friday 30th 2022


Join us for the World's Greatest Coffee Morning!
in aid of Macmillan Cancer Support. https://coffee.macmillan.org.uk/
---
2022 Dates to be advised

Lyme Splash
Lyme Regis to Charmouth Sea Swim Challenge



Open House: Belmont, Lyme Regis, Dorset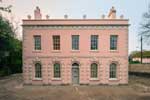 part of Heritage Open Days 10am – 4pm Free admission but book in advance
Giving history a future
Further details: www.landmarktrust.org.uk

Back to School?
Ferne's Annual Fun Dog Show promises to be bigger and better than ever! Have-a-go agility, temptation alley and of course the show itself make it a doggy paradise, and there's plenty for people as well! Near Chard see www.ferneanimalsanctuary.org
Harvest Home Fundraising Auction
at the Nags Head, Silver Street 4pm where there will be some great prizes up for grabs including local produce, hampers and items donated by local businesses. Raffle tickets will also be on sale. All funds raised go towards Lyme Regis Christmas Lights. www.lymechristmaslights.co.uk
---
Dogs need to be on a lead all year on

Marine Parade, Cart Road, Gun Cliff, Church Cliff Walk, the Harbour, the Cobb Lister & Langmoor Gardens

Lyme Regis's front beach:
No Dogs
from 1st May until 30th September then on a lead

Dogs allowed all year
Monmouth Beach, Cobb Gate & East Beach.

Charmouth Beach:
no dogs from 1st May to 30 September.

Please check notices locally to verify this information
Dog waste must be cleared up and disposed of properly and dogs must be under the handler's control at all times. Failure to comply may result in a fine or prosecution.

Exhibitions



Vaccination
Lyme Regis Medical Centre
&
Lyme Bay Medical Practice 445777

Charmouth Medical Practice 560872

WALKS and Tours
Do take advice about safe tide times before

setting off for more than fifteen minutes hike, without a guide, along our beautiful beaches: - what appears to be an easy bit of ground to scramble over is more likely to be a treacherous mud slide - don't take a chance!
FOSSIL WALKS

Get Fossiling on the Jurassic Coast! Join one of Lyme Regis Museum's famous fossil walks along this historic stretch of Dorset coast with Geologist Paddy Howe and Marine Biologist Chris Andrew. Some families return time and again to search with Paddy and Chris among the sand and rocks for fossils that have been washed down onto the beach after 190 million years. For adults and children alike, it's an unforgettable experience.
Each walk is limited to 15 people per guide. Start times for walks vary according to the tides and take about three hours.
Lyme History Walks


"Discover the unique and colourful history of Lyme Regis with experienced tour guide Chris Lovejoy"
01297 443140
Mary Anning was a world famous fossil hunter - and was featured in Tracey Chevalier's novel Remarkable Creatures - hear stories of her life and see where she lived and hunted.

Meet at


Lyme Regis Philpot Museum
Bridge Street
Lyme Regis
DT7 3QA