Saturday 1st June

RNLI Flag Day: volunteer collectors will be on duty in Lyme Regis and Charmouth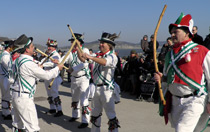 Lyme Regis Day of Morris Dancing: Performances on the seafront throughout the day, including Morris dancing sides from across the country, local schools and a Morris band. start at 11am. Beach barbecue in the evening.
Monday 3rd June

TUESDAY 4 JUNE

CINEMA: TUESDAY NIGHT AT THE MOVIES: THE GRAPES OF WRATH
Starring Henry Fonda: Tom Joad returns from prison to his Oklahoma home. He is barely in time to join his family on their arduous trek to California, having just quit their Dust Bowl-ravaged farm. Cert. PG. Duration 129 minutes £6 advance / £7.50 on the door Starts 7:30 P.M. www.marinetheatre.com
WEDNESDAY 5 JUNE

SCREENING: THE TAMING OF THE SHREW
Shakespeare's comedy is re-imagined with England as a matriarchy. Baptista Minola is seeking to sell off her son Katherine to the highest bidder. Cue an explosive battle of the sexes in this electrically charged love story. £5 under 18s advance or on the door / £11 advance adults / £14 on the door Starts 7 P.M. www.marinetheatre.com

SUNDAY 9 JUNE

MUSIC: THE SUNDAY SESSIONS
Sunday papers, local drinks, and the best local musicians - that's our free entry post-roast session in our lovely bar overlooking the Cobb. If you'd like to play please apply to declan@howlrecords.com. Free entry, no tickets Bar opens and starts at 3 P.M. www.marinetheatre.com
Wednesday June 12th 2019

Coach trip to Lytes Cary Manor and Midney Gardens and Nursery

Lytes Cary is an intimate manor house featuring a 14th-century chapel and 15th-century Great Hall. Its Arts & Crafts-style garden is an inspiring combination of outdoor rooms, topiary, statues and herbaceous borders. Small tea room and shop.
Midney is a 1.4-acre plantsman's garden and nursery, where unusual planting combinations, interesting use of colour and a natural flowing style create a garden full of variety and inspiration. Includes seaside garden, white garden, kitchen garden, woodland walk, wildlife pond and undercover world gardens.
Cost for members £18 if also a National Trust member, £22 if not. Guests welcome at an additional cost of £3. Cost includes tea and cake at Midney. Coach departs Uplyme Village Hall at 9.15am. Please ring Annie Kobus 01297 443346 to book. Uplyme and Lyme Regis Horticultural Society
THURSDAY 13 JUNE

CINEMA: THE SEAGULL
Based on Chekhov's play with Saoirse Ronan and Annette Bening in the lead roles: in the early 20th century, an aging actress and her lover visit the estate of her elderly brother. Cert. 15. Duration 119 minutes £6 advance / £7.50 on the door Starts 7:30 P.M. www.marinetheatre.com
FRIDAY 14 JUNE

THEATRE: A PERFECT WORLD
This rollicking music-filled adventure is from Miracle Theatre, an acclaimed company. A feisty young woman ventures into a world of undiscovered jungles, treasure maps, and penknives. Bring your own seating for this outdoor performance. 'Miracle are a joy – go and see them!' ~ Western Morning News £12 adults, £10 children, £40 family advance / £14 adults, £12 children, £45 family on the door. Starts 7:30 P.M. www.marinetheatre.com
Saturday 15th June




Guitars on the Beach Guitars On The Beach is the UK's largest guitar festival at which hundreds of guitarists of all ages and abilities come together to simultaneously play together a selection of well-known songs and form Britain's biggest band, performing on the beach in Lyme Regis in Dorset. Guitars on the Beach
Sunday 16th Fathers Day

CINEMA: ALL OVER THE TOWN
As part of Marine Theatre The First 125 Years, this is a complimentary screening for the community of the 1949 classic film–which was all filmed in Lyme Regis. How many times can you spot the Marine? Free tickets. Starts 7:30 P.M. www.marinetheatre.com
TUESDAY 18 JUNE

CINEMA: TUESDAY NIGHT AT THE MOVIES: THE PIANO
Ada, a Scottish woman mute since childhood, gives lessons to an uneducated Englishman–and the scene is set for a passionate and sensual relationship. Cert. 15. Duration 120 minutes £6 advance / £7.50 on the door. Starts 7:30 P.M. www.marinetheatre.com
THURSDAY 20th



THEATRE: ARE YOU GOING TO THE MARINE?
Join us as we celebrate one hundred and twenty five years of the Marine, in this special play by the screenwriter Andrew Rattenbury. With the help of the thriving local theatre, music, and drama groups, who have all performed here over the past century or so, we'll be looking back at our rich history. £6 children, £12 adults advance / £8 children, £14.50 adults on the door Starts 7 P.M. daily with an additional matinee on 22 June at 2:30 P.M. www.marinetheatre.com

FRIDAY 21 JUNE

PARADE: MARINE THEATRE - THE FIRST 125 YEARS
Line the streets! The parade to celebrate the Marine's birthday will include many Lyme organisations, some with goodies to hand out, and will proceed from Holmbush down Broad Street to Theatre Square. Free Starts 6:30 P.M. from Holmbush Car Park www.marinetheatre.com

THEATRE: ARE YOU GOING TO THE MARINE?
Join us as we celebrate one hundred and twenty five years of the Marine, in this special play by the screenwriter Andrew Rattenbury. With the help of the thriving local theatre, music, and drama groups, who have all performed here over the past century or so, we'll be looking back at our rich history. £6 children, £12 adults advance / £8 children, £14.50 adults on the door Starts 7 P.M. daily with an additional matinee on 22 June at 2:30 P.M. www.marinetheatre.com
Saturday 22nd

Axe Vale Show - Axminster - Music - Stalls - Displays


Coach Parties welcome Dogs welcome. THE SHOWGROUND, Trafalgar Way, AXMINSTER From 10am to 6 pm Axe Vale Show

THEATRE: ARE YOU GOING TO THE MARINE?
Join us as we celebrate one hundred and twenty five years of the Marine, in this special play by the screenwriter Andrew Rattenbury. With the help of the thriving local theatre, music, and drama groups, who have all performed here over the past century or so, we'll be looking back at our rich history. £6 children, £12 adults advance / £8 children, £14.50 adults on the door Starts 7 P.M. additional matinee on 22 June at 2:30 P.M. www.marinetheatre.com

Sunday 23rd June
Coast to Coast: Jurassic Coast Motorcycle Run: Lyme Regis to Weston-super-Mare Veteran, Vintage & Post War Classics (in production in the 1990's) will again start from Lyme Regis promenade (Guncliff) and, after the customary call by the Town Crier and address from the Mayor, will proceed to the Clubs home base at Chilthorne Domer Recreational Club. Then it's onto Wells Market Place and Bishops Walk for the lunch stop before proceeding to the finish and award presentations by the Mayor on Burnham-on-Sea South Esplanade. Vintage Motorcycle Club, Dorset section visit Lyme Regis. Come and view the parade of bikes first at the Guncliff and talk to the riders This event is open to motor bikes in production up to and including 1972 including Veteran and Vintage. Departs from Cobb Gate/Marine Parade. Arrive early to have a good look at the bikes! Supported Charity: Headway Somerset More info www.wcmcc.org.uk Westland Classic Motorcycle Club

Axe Vale Show - Axminster - Music - Stalls - Displays
Coach Parties welcome Dogs welcome. THE SHOWGROUND, Trafalgar Way, AXMINSTER From 10am to 6 pm Axe Vale Show


THEATRE: MORGAN & WEST'S UTTERLY SPIFFING MAGIC SHOW FOR KIDS AND CHILDISH GROWN-UPS
Time-travelling magicians Morgan & West present a jaw-dropping magic extravaganza as part of our 125th anniversary celebrations. 'Hilarious and good for all ages' ~ Primary Times ★★★★ 'hugely talented' ~ Daily Mirror ★★★★ 'superbly crafted' ~ The Stage £9 adults, £7 children, £25 family (two adults and two children) advance / £11 adults, £9 children, £29 family (two adults and two children) on the door Starts 2 P.M. www.marinetheatre.com
Tuesday 25th June

CINEMA: ALL IS TRUE
Starring Kenneth Branagh, Judi Dench, and Ian McKellen, this film tells the story of William Shakespeare's final days. ★★★★ 'Ben Elton's poignant Bard biopic' ~ The Guardian £6 advance / £7.50 on the door Starts 7:30 P.M. www.marinetheatre.com
Wednesday June 26th 2019

'The Dutch Flower Painters and Landscape Painting' by Pam Simpson

Pam will talk about the Dutch flower painters and show how landscape painting evolves. Pam is an Art and Design Historian, who has worked in London art schools for 30 years, including the Royal College of Art. She spent 20 years at Middlesex University.
She lives in West Dorset now and is currently Associate Lecturer at Bath Spa University in the art school and at London College of Fashion, University of the Arts London. Pam teaches short courses and study days in Bridport and in 2019 in Lyme Regis.
Everyone is welcome. The talk starts at Uplyme Village Hall at 7.30pm. Refreshments are available from 7.15pm. Members free; non-members £3. Uplyme and Lyme Regis Horticultural Society
THURSDAY 27 JUNE

SCREENING: NATIONAL THEATRE LIVE: SMALL ISLAND
Andrea Levy's Orange Prize-winning novel Small Island comes to life in an epic new theatre adaptation broadcast to the Marine. £5 under 18s advance or on the door / £11 advance adults / £14 on the door Starts 7 P.M. www.marinetheatre.com
FRIDAY 28 JUNE

MUSIC: TALON
The UK's leading celebration of the Eagles play all the classics alongside songs from the band's favourite artists such as John Legend and Lionel Richie. ★★★★ 'Essential listening if you appreciate great musicianship, major label production standards and the tightest harmonies you will hear this side of Crosby, Stills & Nash' ~ 'Maverick Magazine' £17 Early Bird / £20 standard / £24 on the door Starts 8 P.M. www.marinetheatre.com
SATURDAY 29 JUNE

COMEDY: LYME REGIS COMEDY CLUB WITH VIKKI STONE
Our multi-talented headliner appears on the John Bishop Show, The Now Show, and won the Soho Theatre Stand-Up Award. She's joined by Phil Lucas, Tom Glover, and Dan Thomas, the presenter of S4C's Gwerthu Allan. 'The audience were almost crying with laughter' ~ The Guardian £8 advance / £10 on the door. Starts 8 P.M. www.marinetheatre.com
SUNDAY 30 JUNE

MUSIC: JAZZ IN THE BAR WITH LYNN THORNTON
This is a 1930s tinged special of our jazz night, starring the vocalist from Just Misbehavin'. £8 advance / £12 on the door Starts 8 P.M. www.marinetheatre.com
---

Past Events
Velo Vintage Occasion & Ride, Seaton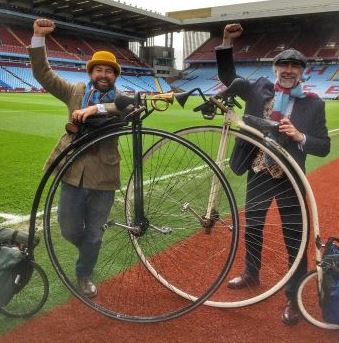 We're delighted to be holding our 14th Occasion & Ride in the coastal resort of Seaton on the Jurassic Coast. We had such a wonderful time last year, we just had to return.
The ride distance will be no more than 9 miles at a very relaxed pace. Tickets must be purchased before the event for riders. You don't need a vintage bicycle, but you do need a bicycle! Lycra is banned and vintage/traditional attire is the order of the day
Spectators are free to come and meet us, indeed are positively encouraged. In aid of Headway Devon. 10:30 am Grand Depart from Seaton Jurassic. More info: www.velovintage.co.uk