Sunday 1st May 2022 International Dawn Chorus Day

visit RSPB for more information about the RSPB's events
Monday 2nd May 2022 May Day Bank Holiday

Thursday 12th May 2022


The Lyme Regis Society
invites you their annual
Coffee Morning
To be held from
11.30 am to 1.00 pm
in
The Alexandra Hotel Dining Room
Pound St, Lyme Regis DT7 3HZ Entrance by Donation
Please check website for further information:
https://www.lymeregissociety.org.uk/
Friday 13th May

Lyme Regis u3a talk: Marshwood Vale - the making of a landscape: Bob Machin
Since retiring as the Bristol University Resident Tutor, Bob has taken the opportunity to investigate landscape history, including how the landscape of Marshwood Vale was created, notably the field systems and settlements. In this presentation, Bob will summarise the main findings of his book on the Vale, published last autumn, drawing on source material from Saxon times to the 19th century.
Details are available on the lymeregisu3a.org web site; membership costs just £12 pa and non members are welcome to the talks for a contribution of £2. 11am: Woodmead Hall
14th -15th May

Jurassic Coast Challenge
https://www.ultrachallenge.com/jurassic-coast-challenge/
May 14th Saturday

PLANT SALE & COFFEE MORNING.


Please donate plants or home produce (cakes, jam, veg.) to be sold to raise funds to support our events. Entry £1. Refreshments on sale10am till 12 noon Uplyme Village Hall. Members free; guests £3. www.ulrhs.wordpress.com

Sunday 15th May
May Fete 2022


Fantastic Stalls, Hot Food, Ice-Cream, Fresh Coffee, Homemade Cakes, Refreshments Activities, stalls, local groups. Lyme Regis May Fete has been a popular event over many years and offers lots of fun things to do for all the family 1- 4pm Anning Road Recreation Ground, The Playing Field, Anning Road
Organ recital by Sam Bristow
, Assistant Organist, Salisbury Cathedral

3pm Lyme Regis Parish Church, Church Street Free with a retiring collection
Thursday 19th May

Lyme Regis Carers' Café
The Driftwood Café, The Baptist Church, Lyme Regis The Third Thursday of every month – Thursday 16th June, Thursday 21st July, Thursday 18th August, Thursday 15th September. From 11am till 1pm – stay all morning or just drop in. Anyone who looks after a friend, relative, partner or neighbour is welcome. You do not have to be a registered carer. lymeregiscarerscafe.co.uk
Saturday 21st May

Unveiling of the Mary Anning Statue
Sunday 22nd May 2022 Rogation Sunday 2022

Blessing of the Boats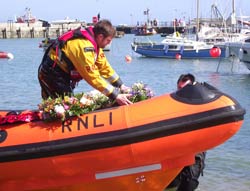 Traditionally, the Lyme Regis Lifeboat holds a Blessing of the Boats family service outside the boathouse at The Cobb. Wreaths are blessed and taken out to sea by the lifeboat where they are laid to commemorate those lost at sea: The Royal British Legion standard and a poppy wreath will be laid as part of this Ceremony which begins 3pm at Lyme Regis Slipway.
Tuesday 24th May
Turn Lyme Green Talk: Wild life - Plant life - Farms Can they thrive together? Laura Williams & Paul Butter - our speakers - will discuss the impacts of farming practices on wildlife, plant life and soil & how to support local ecologies and ethical food production. Driftwood Café, Baptist Church top of Broad Street, Lyme Regis 7.00 for 7.15pm FREE .. All welcome .. Refreshments
May 25th (Wednesday)

TALK. 'Japanese Acers and Orchids' by Steve Cleverdon.
Known as 'the Acer Grower', Steve is a plantsman and garden designer, who is passionate about Japanese acers, orchids, and hydrangeas. He is an enthusiastic and entertaining speaker and will bring plants to sell. Uplyme Village Hall. Refreshments from 7pm. Members free; guests £3. www.ulrhs.wordpress.com

Friday 27th May Half Term
Dogs need to be on a lead all year o

n

Marine Parade, Cart Road, Gun Cliff, Church Cliff Walk, the Harbour, the Cobb, Lister & Langmoor Gardens

Lyme Regis's front beach: Dogs are banned
1st May until 30th September then must be on lead
Dogs allowed all year
Monmouth Beach, Cobb Gate & East Beach.
Please check local notices to verify this information
Dog waste must be cleared up and disposed of properly and dogs must be under the handler's control at all times.

Failure to comply may result in a fine or prosecution.
All invited to
Blessing the Boats
The annual Blessing of the Boats service will be held at the RNLI lifeboat station in Lyme Regis

Open air, inter-denominational service, starting at 3pm, visitors and residents are invited to take part.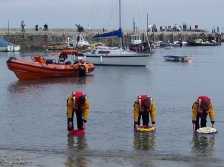 The service is normally held every year on Rogation Sunday to remember those who have given their lives at sea.
At the end of the service three floral wreaths and a poppy wreath from the British Legion will be taken aboard the RNLI lifeboat and laid at sea.


Lifeboat Week 2022
Saturday 23rd - Friday 30th July

Exhibitions

Waterline 2022

Abstract Photos by Lois Wakeman and Tricia Scott

26 April until 12 June
Rotunda Gallery, Lyme Regis Museum

The second in a long-term collaboration between two like-minded artists, Tricia Scott and Lois Wakeman, this fascinating exhibition of contemporary abstract photography focuses on the weathered and textured surfaces of boats. Both photographers like to look for things that many people would walk past, or over, unseeing. Living by the coast, seaside subjects naturally suggested themselves. Visitors are invited to lose themselves in imaginary scenes created by peeling paint, corrosion and worn wood and to admire the surprising patterns revealed when the boats are hauled out of water for the winter. Intrigued by the abstract and painterly nature of the photos, people at previous shows have enjoyed reading their own interpretation into them. "Are you sure these aren't paintings?" is a common reaction.

Waterline 2022 is open Tuesdays through Saturdays, 10.00-17.00 and Sundays 10.00-16.00, admission fees to Museum apply and for further information, please visit www.lymeregismuseum.co.uk


Lyme Regis Art Society
Annual Exhibition & Sale of Art

28 May to 9 June
Open daily 10.30am-4.30pm

Malthouse Gallery

The Town Mill

Free Admission


Jazz Jurassica

Thursday 2 June - Sunday 5 June, 2022

WALKS and TOURS
Do take advice about safe tide times before setting off for more than

fifteen minutes hike, without a guide, along our beautiful beaches: - what appears to be an easy bit of ground to scramble over is more likely to be a treacherous mud slide - don't take a chance!
A selection of 12 walks around Lyme Regis area to do at your leisure see here for maps
Lyme History Walks

Meet at the Marine Theatre
"Discover the unique and colourful history of Lyme Regis with experienced tour guide Chris Lovejoy"
01297 443140
Old Lyme Ghost Walks

From outside Lyme Regis Museum
Lasts 1 hour
0797 0068 700 www.ghostwalkslyme.org.uk