WEDNESDAY 1 MAY

SCREENING: WILDE WEDNESDAYS: THE IMPORTANCE OF BEING EARNEST
A 'brilliantly funny' (★★★★ Times) broadcast of one of the funniest plays in English: Jack, Algy, Gwendolyn and Cecily discover how unsmooth runs the course of true love, while Lady Bracknell keeps a baleful eye on the mayhem of manners. ★★★★★ 'A masterpiece of sparkling wit' ~ WhatsOnStage Certificate PG. Duration 133 minutes including interval £5 under 18s advance or on the door / £11 adults advance / £14 on the door Starts 7 P.M. www.marinetheatre.com
THURSDAY 2 MAY
Friday May 3rd 2019
Coach Trip to Garden Festival, Powderham Castle
More than 100 exhibitors will be offering quality plants from award-winning nurseries; unique West C

ountry crafts; artisan food and drink, along with live music, talks and tips on growing and cooking fruit and vegetables. This all takes place in the fabulous grounds and interior of Powderham Castle. This Friday trip is on the first of the Festival's two days, to see ensure we see everything at its best. Cost for members £16 for coach & admission; non-members £3 extra. Coach departs from Uplyme Village Hall at 9.15am. Please ring Rose Mock 01297 34733 to book. Uplyme and Lyme Regis Horticultural Society

TALK: ENVIRONMENTAL AND MARINE CURRENT ISSUES
Owen Day describes marine protection in the Lyme Bay and the Caribbean, while Julia Hailes MBE asks the question, have the public gone bonkers about plastics? £8 advance and on the door Bar opens 6 P.M. Starts 7 P.M. www.marinetheatre.com
Saturday 4th - Sunday 5th May Lyme Regis Fossil Festival 2019
SATURDAY 4 MAY

TALK: THE PALAEONTOLOGICAL SOCIETY
Maria McNamara gives a whirlwind tour of geological time and spectacular fossils, while illustrating prehistoric animals is the topic for artist James McKay. Starts 12 P.M. Free Entry www.marinetheatre.com

TALK: STORYTELLER WITH WOODROFFE STUDENT STORIES
Join Bridport-based Martin Maudsley to uncover the magical stories behind Colpexies' Fingers, Snakestones, and Fairy Loaves. 1:30 P.M. and 2:45 P.M. Free Entry www.marinetheatre.com

TALK: THE CAUSES OF THE BINDON LANDSLIP
Teachers Ian Wood, Julia Lamb Wilson, and John Haylock alongside geologist Richard Edmonds and Woodroffe School students debate the causes and effects of the 1839 event. Free Entry Starts 2 P.M. on 4 May and 12 noon www.marinetheatre.com

TALK: BRITISH ANTARCTIC SURVEY
Huw Griffiths and Cath Waller discuss microplastics in Antarctica and the Southern Ocean. Free Entry Starts 3:30 P.M. www.marinetheatre.com

MUSIC: EVOLUTION ROCKS
Local young people from B Sharp, Woodroffe School, and Mrs Ethelston's Primary Academy entertain with original music inspired by the theme of evolution. £8 advance and on the door Starts 7 P.M www.marinetheatre.com

Sunday 5th May

TALK: THE CAUSES OF THE BINDON LANDSLIP
Teachers Ian Wood, Julia Lamb Wilson, and John Haylock alongside geologist Richard Edmonds and Woodroffe School students debate the causes and effects of the 1839 event. Free Entry Starts 12 noon on 5 May. www.marinetheatre.com

TALK: LAURA CHATTON AND HER HARRIS HAWK
This is a talk about how birds have descended from dinosaurs, with a live harris hawk in attendance. Free entry Starts 1 P.M. www.marinetheatre.com
TALK: THE GREAT LANDSLIDE
Geologist Richard Edmonds describes the formation of Goat Island and the Chasm. Free entry Starts 2 P.M. www.marinetheatre.com

TALK: CLOSING FESTIVAL TALK
Sir Ghillean Prance, former director of Kew and Richard Lane, former Director of Science at the Natural History Museum host a discussion on 'thinking like a scientist'. Free Entry Starts 3 P.M. www.marinetheatre.com

Lyme Bay Chorale Spring Concert
The concert will have a nautical theme, and the programme will include: Herbert Sumsion's anthem They That Go Down to the Sea in Ships Andrew Millington's Give Me My Scallop Shell (written for the Queen's visit to Exeter Cathedral for her golden jubilee in 2002) The Seafarer - also by Andrew Millington as well as Louis Vierne's Messe Solennelle. More info see right. 4pm St Michael's Church, Lyme Regis
Monday 6th May Day (Early May Bank Holiday)
TUESDAY 7 MAY

CINEMA: TUESDAY NIGHT AT THE MOVIES: REBECCA
Joan Fontaine plays the second wife of Maxim de Winter, forever in the shadows of the first – especially where Mrs Danvers, the housekeeper, is concerned. Directed by Alfred Hitchcock, Rebecca won an Academy Award for Best Film. Cert. U. Duration 130 minutes £6 advance / £7.50 on the door Starts 7:30 P.M. www.marinetheatre.com

Wednesday 8th

May


The Festival of Britain

An illustrated talk by Mathew Denney : 6 years after the end of the 2

nd World War, and exactly 100 years since the famous Great Exhibition of 1851 – the Festival of Britain was a display of might and fortitude on a national scale, showcasing the best of British manufacturing. Mathew Denney will be speaking about the Festival of Britain and its impact on the country. Woodmead Halls, Hill Road, Lyme Regis DT7 3PG. Organised by U3A Heritage Coast, Lyme Regis. Free to members, non-members £2 donation suggested. Coffee served from 10 to 10.45 followed by talk at 11.00 until noon. To join U3A see website www.lymeregisu3a.org or telephone 01297 444566.

THURSDAY 9 MAY

MUSIC: JO HARMAN
The Mirror called her the 'UK's finest female soul blues voice' who, according to Country Magazine, writes 'lip-biting beautiful songs'. Lyme Regis's Joanna Cooke supports. £12.50 advance / £15 on the door Starts 7:30 P.M. www.marinetheatre.com

FRIDAY 10 MAY

MUSIC: KRIS DREVER
This concert is from the Scottish folk guitarist from the band Lau, who won Folk Singer of the year 2017 and Best Original Track 2017 at the BBC Radio 2 Folk Awards. With support. ★★★★ 'Kris Drever has all the makings of a solo celebrity' ~ The Guardian 'Immense yet ultra-supple sophistication, musicianship of the first order.. a breath of fresh air' ~ Songlines £12 advance / £14.50 on the door. Starts 8 P.M. www.marinetheatre.com
Saturday May 11th 2019
Plant Sale & Coffee Morning


This is a very popular and convivial event to raise funds to support Horticultural Society events. Members bring donations of plants and home produce (cakes, jam, veg.) to sell. Donations of plants and home produce will be sold to raise funds towards the society's £500 donation to the Devon Air Ambulance night landing site at the King George V Playing Fields. Entry £1. Get there early to get the best! Contact Brian Tomsett on 01297 444962 for more details. 9.30am -11.30am, Uplyme Village Hall Uplyme and Lyme Regis Horticultural Society

MUSIC: ROBYN HITCHCOCK
Among alternative rock's father figures, Hitchcock is the closest thing the UK has to Bob Dylan. With support from Jess McAllister. "A gifted melodist, Hitchcock nests engaging lyrics in some of the most bracing, rainbow-hued pop this side of Revolver. He wrests inspiration not from ordinary life but from extraordinary imaginings" ~ Rolling Stone £16 advance / £18 on the door Starts 8 P.M. www.marinetheatre.com
Sunday 12th

May Fete


Fantastic Stalls, Hot Food, Ice-Cream, Fresh Coffee, Homemade Cakes, Refreshments Activities, stalls, local groups. 1- 4pm Anning Road Recreation Ground, The Playing Field, Anning Road
TUESDAY 14 MAY

Cole Porter's Anything Goes, - by The Lyme Regis Musical Theatre
The S.S. American, sailing from New York to England, carries an unusual group of passengers included among them area gangster (Moonface Martin), a wealthy debutante and her mother (Hope and Evangeline Harcourt), a night club singer (Reno Sweeny), and a wealthy New York businessman and his stowaway assistant Elisha J. Whitney and Billy Crocker). 7.30pm The Woodmead Halls from Tuesday 14th May to Saturday 18th May 2019. Tickets - Tuesday £10 adults, £8 for the under 16's Wednesday to Saturday £15 adults, 8 for the under 16's Tickets available at Lyme Regis Tourist Information Centre - Can be booked over the phone by debit/credit card Telephone 01297 442138

SCREENING: NT LIVE: ALL MY SONS
Broadcast live from The Old Vic, Oscar-winner Sally Field and Bill Pullman star in Arthur Miller's blistering drama centred on the failings of the American Dream. £5 under 18s advance or on the door / £11 adults advance / £14 on the door Starts 7 P.M. www.marinetheatre.com
Wednesday 15th

Charity Golf Day
An annual event held at the Lyme Regis Golf Club and organized in conjunction with the Rotary Club of Axminster. Teams of four, Stableford, two scores to count, full handicap (max men 24, ladies 30). Organised by the Rotary Clubs of Lyme Regis and Axminster: We can make up teams. For further information contact secretary@lymeregisrotary.org
Coach Trip to Buckland Abbey

With 700 years of history, Buckland Abbey is part museum, part house, filled with treasures such as the legendary Drakes Drum. There are formal, kitchen and wild gardens set in a 600-acre estate. The cider house garden has borders full of seasonal blooms, lawns are carpeted with wild flowers and there are winding paths through trees and shrubs in the wild garden. You are welcome to walk around the estate. Restaurant. Cost for members £14 if also a National Trust member, £21 if not. Guests welcome at an additional cost of £3. Depart Uplyme Village Hall at 9.15am. Please ring Rose Mock 01297 34733 to book. Uplyme and Lyme Regis Horticultural Society

Cole Porter's Anything Goes, - by The Lyme Regis Musical Theatre
The S.S. American, sailing from New York to England, carries an unusual group of passengers included among them area gangster (Moonface Martin), a wealthy debutante and her mother (Hope and Evangeline Harcourt), a night club singer (Reno Sweeny), and a wealthy New York businessman and his stowaway assistant Elisha J. Whitney and Billy Crocker). 7.30pm The Woodmead Halls from Tuesday 14th May to Saturday 18th May 2019. Tickets - Tuesday £10 adults, £8 for the under 16's Wednesday to Saturday £15 adults, 8 for the under 16's Tickets available at Lyme Regis Tourist Information Centre - Can be booked over the phone by debit/credit card Telephone 01297 442138
THURSDAY 16 MAY

POETRY: HOLLIE MCNISH
A show of performance poetry from the Ted Hughes Award winner, with support from Vanessa Kisuule. 'I can't take my ears off her' ~ Benjamin Zephaniah 'Her rhymes have a driving quality, urgent words pinning down fleeting feelings' ~ The Observer £12 advance / £15 on the door Starts 7:30 P.M. www.marinetheatre.com


Cole Porter's Anything Goes, - by The Lyme Regis Musical Theatre
The S.S. American, sailing from New York to England, carries an unusual group of passengers included among them area gangster (Moonface Martin), a wealthy debutante and her mother (Hope and Evangeline Harcourt), a night club singer (Reno Sweeny), and a wealthy New York businessman and his stowaway assistant Elisha J. Whitney and Billy Crocker). 7.30pm The Woodmead Halls from Tuesday 14th May to Saturday 18th May 2019. Tickets - Tuesday £10 adults, £8 for the under 16's Wednesday to Saturday £15 adults, 8 for the under 16's Tickets available at Lyme Regis Tourist Information Centre - Can be booked over the phone by debit/credit card Telephone 01297 442138
FRIDAY 17 MAY

Cole Porter's Anything Goes, - by The Lyme Regis Musical Theatre
The S.S. American, sailing from New York to England, carries an unusual group of passengers included among them area gangster (Moonface Martin), a wealthy debutante and her mother (Hope and Evangeline Harcourt), a night club singer (Reno Sweeny), and a wealthy New York businessman and his stowaway assistant Elisha J. Whitney and Billy Crocker). 7.30pm The Woodmead Halls. Tickets - Tuesday £10 adults, £8 for the under 16's Wednesday to Saturday £15 adults, 8 for the under 16's Tickets available at Lyme Regis Tourist Information Centre - Can be booked over the phone by debit/credit card Telephone 01297 442138

CINEMA: THE FAVOURITE
Olivia Colman won an Oscar for her portrayal of Queen Anne in this extraordinary comedy drama. ★★★★★ 'A brilliantly acted film that's funny, clever and heartbreakingly sad' ~ The Daily Mail Cert. PG. Duration 119 minutes 7:30 P.M. £6 advance / £7.50 on the door www.marinetheatre.com
SATURDAY 18 MAY

THEATRE: THE AMAZING BUBBLE MAN
Louis Pearl has been thrilling audiences of all ages for over 30 years with the art, magic, and fun of bubbles. He is a family favourite at the Edinburgh Fringe Festival, where he has enjoyed twelve years of sell-out success. £10 children, £12 adults advance / £12 children, £14.50 adults on the door There are two matinees that start at 11 A.M. and 2:30 P.M. www.marinetheatre.com

Cole Porter's Anything Goes - by The Lyme Regis Musical Theatre
The S.S. American, sailing from New York to England, carries an unusual group of passengers included among them area gangster (Moonface Martin), a wealthy debutante and her mother (Hope and Evangeline Harcourt), a night club singer (Reno Sweeny), and a wealthy New York businessman and his stowaway assistant Elisha J. Whitney and Billy Crocker). 7.30pm The Woodmead Halls. Tickets - Tuesday £10 adults, £8 for the under 16's Wednesday to Saturday £15 adults, 8 for the under 16's Tickets available at Lyme Regis Tourist Information Centre - Can be booked over the phone by debit/credit card Telephone 01297 442138

COMEDY: LYME REGIS COMEDY CLUB WITH MIKE BUBBINS
A legend on the UK comedy circuit, this month's headliner has supported Rich Hall on tour. Wayne the Weird, Jon Pearson, and Tom Glover also perform. 'If you want an outside bet for stardom, back Mike Bubbins' ~ The Guardian £8 advance / £10 on the door Starts 8 P.M. www.marinetheatre.com
SUNDAY 19 MAY


MUSIC: THE SUNDAY SESSIONS WITH JINDER
Jinder plays American roots music and Delta blues. His music features in the recent film 'Fisherman's Friends'. He's the headline act for May's free-entry Sunday Sessions, with Declan Duffy as host. Free entry, no tickets Bar opens and starts 3 P.M. www.marinetheatre.com
Wednesday May 22nd 2019

'Shady Ladies & Damp Damsels' by Sally Gregson of Mill Cottage Plants


Sally will give suggestions for planting in those difficult spots from dry shade under trees to heavy damp areas. Suggestions include some epimediums and hydrangeas. There will be plants for sale. Sally has been tutoring gardening courses at West Dean for over five years. She trained professionally at Hadlow College, and runs Mill Cottage Plants in Wookey, Somerset. Sally lectures widely here and abroad; writes regularly for local and national magazines; and has published 'Practical Propagation' (2008), 'Ornamental Vegetable Gardening' (2009), and 'The Plant Lover's Guide to Epimediums' (Timber Press 2015). Everyone is welcome. The talk starts at Uplyme Village Hall at 7.30pm. Refreshments are available from 7.15pm. Members free; non-members £3. Uplyme and Lyme Regis Horticultural Society
MONDAY 20 MAY

Talk: HOOKED: MARK HIX IN CONVERSATION WITH MARIELLA FROSTRUP
Our patron celebrates the launch of his new book with an in-conversation fundraiser chaired by Mariella Frostrup, the broadcaster known for BBC Radio 4's Open Book. Part of our anniversary celebrations. £6.50 advance / £8.50 on the door. Bar opens 6 P.M., starts 7 P.M. www.marinetheatre.com
TUESDAY 21 MAY

CINEMA: TUESDAY NIGHT AT THE MOVIES: REBEL WITHOUT A CAUSE
James Dean plays Jim, a troublesome teenager at odds with his parents, in yet another new town and school, and with new friends who are as troubled as he is. Cert. PG. Duration 111 minutes £6 advance / £7.50 on the door Starts 7:30 P.M. www.marinetheatre.com
THURSDAY 23 MAY

SCREENING: MATTHEW BOURNE'S SWAN LAKE
Tchaikovsky's masterpiece is broadcast to the Marine from Sadler's Wells with a fresh look for the 21st century and is 'as bold and beautiful as ever' ~ ★★★★★ The Telegraph. £5 under 18s advance or on the door / £12.50 adults advance / £14 on the door Starts 7 P.M. www.marinetheatre.com
Friday 24th - Monday 27th

Lyme's festival of jazz A five-day festival incorporating the best of jazz, soul and funk in the stunning seaside setting of Lyme Regis over the May Spring Bank Holiday weekend. It features nationally acclaimed headline acts in the iconic Marine theatre as well as a free music festival (Sunday 27 and Monday 28) on the seafront showcasing emerging local talent. Check out: www.jazzjurassica.co.uk for more details and tickets.
Friday 24th


Half Term

MUSIC: JAZZ JURASSICA: KICK ASS BRASS
Part of Lyme Regis's jazz festival: funky and full on, with steaming horns and soulful vocals from Eleisha Milverton, this is the best brass band on the scene right now. £15 advance / £18 on the door Starts 8:30 P.M. www.marinetheatre.com


Saturday 25th May – 11am till 5pm

B Sharp Busking Festival 2019


Come along and join in the musical takeover of Lyme Regis! Busk as a solo artist or bring your whole band. Bring your own instruments or have a go on our play-me-piano or play-me-drums. Coinciding with the Jazz Jurassica Festival Lyme Regis will be filled with music, with performances by young people as well as older musicians and groups. There will be workshops and activities for all ages including ukuleles, beach-hut jamming, drumming, crafts and a pop-up choir. Email today to book your busking slot, and put the date in your diary! B Sharp's team will be there to greet and guide you. We would love you to take part!
Book your time and pitch If you would like to take part in any or all of the busking opportunities or make your own, please contact us. Booking is advised to secure your preferred time and place but you can turn up on the day and sign in at the Welcome Desk on the seafront in the Marine Parade Shelters.
Please support us If you would like to sponsor us or make a donation: £100 would pay for the piano installation; £75 would pay for the drum installation and a £25 donation would contribute towards the costs of transporting young buskers to Lyme. With your support we can help more young people to take part in life changing musical experiences towards building a sound future. Contact: busking@bsharp.org.uk or call 07947 334138.
Saturday 25th May



MUSIC: JAZZ JURASSICA: EQUINOR BIG BAND
A hugely entertaining and joyous tribute to Duke Ellington from an international big band at the top of its game. £10 advance / £12 on the door Starts 5 P.M. www.marinetheatre.com

MUSIC: JAZZ JURASSICA: LAURENCE JONES
The blues guitar wizard headlines Saturday night at Jazz Jurassica, with the Adam Sweet Trio warming up. 'A star in the making' ~ BBC Radio 2 £18 seated / £15 standing advance / £20 on the door Starts 8:30 P.M. www.marinetheatre.com
Sunday 26th May 2019 Rogation Sunday

Blessing of the Boats and Open Day: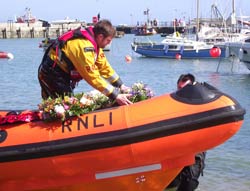 This year Lyme Regis Lifeboat Station is offering a chance to meet the crew and some family entertainment prior to the Blessing of the Boats, from 9am - 2pm.
Rogation Sunday - when traditionally, the Lyme Regis Lifeboat holds a Blessing of the Boats family service outside the boathouse at The Cobb. Wreaths are blessed and taken out to sea by the lifeboat where they are laid to commemorate those lost at sea: The Royal British Legion standard and a poppy wreath will be laid as part of this Ceremony at Lyme Regis Slipway. The short service, with the Lyme Regis Town Band, starts at 15.00 (3.00pm) everyone is welcome

MUSIC: JAZZ JURASSICA: MATT CARTER & LEIGH COLEMAN
Signed, sealed and delivered! Stevie Wonder gets the funky finger-clicking treatment. £10 advance / £12 on the door. Starts 5 P.M. www.marinetheatre.com

MUSIC: JAZZ JURASSICA: POWERHOUSE GOSPEL CHOIR
Red hot gospel raises the roof for the final show of Lyme Regis's jazz festival. 'You brought the house down with your Joy to the World – we feel blessed' ~ London Symphony Orchestra £18 advance / £22 on the door Starts 8:30 P.M. www.marinetheatre.com
Monday 27th Spring Bank Holiday

NEIL MAYA'S BRUBECK BRUNCH
As expected, tickets to the 2-course brunch on Bank Holiday Monday at the Royal Lion Hotel are proving very popular and selling fast. Because places are limited don't leave it too long before you grab your tickets as they'll soon vanish into thin air - we kid you not! For many, Dave Brubeck's music is the sound of cool. This popular American pianist and composer brought jazz into the popular mainstream. Now, saxophonist Neil Maya, brings together a group of the south west's finest musicians for this special event. This Brubeck Brunch will include all the best known Brubeck tunes and, of course, 'Take 5'. The band includes Neil Maya (sax), Nick Carter (drums), Kevin Sanders (bass) and Matt Carter, one of the most exciting piano players around. Tickets include a two-course lunch. £25 - must be booked in advance Royal Lion Hotel, 12.30pm, Doors: 12pm More information: www.jazzjurassica.co.uk
TUESDAY 28 MAY
WEDNESDAY 29 MAY

THEATRE: MUCH ADO ABOUT NOTHING
The HandleBards pedal from venue to venue to perform sustainable Shakespeare. Join them for an outside performance with riotous amounts of energy, a fair old whack of chaos, and a great deal of laughter. ★★★★★ – 'Explodes with energy and is a genuine treat from start to finish.' ~ The Stage £12.50 early bird, £16.50 adult, £10.50 under 18s, £5.50 under 10s advance / £18.50 adult, £10.50 under 18s, £5.50 under 10s on the door Starts 6:30 P.M. www.marinetheatre.com
THURSDAY 30 MAY


CINEMA: RALPH BREAKS THE INTERNET
Ralph and Vanellope discover a wifi router in their arcade, leading them into a new animated adventure. £4.50 advance and on the door Starts 2 P.M. www.marinetheatre.com

CINEMA:MARY QUEEN OF SCOTS
Starring Saoirse Ronan: Mary Stuart's attempt to overthrow her cousin Elizabeth I, Queen of England, finds her condemned to years of imprisonment before facing execution. £6 advance / £7.50 on the door Starts 7:30 P.M. www.marinetheatre.com
Friday 31st
---
2018 Events which may be repeated in 2019



MillFest: National Mills Weekend is the annual festival of our milling heritage, providing visitors with a fantastic opportunity to celebrate working watermills.

Mary Anning day
Emerald Ant in the museum playing Anning and the scientists characters (all day)
Jurassic CSI (12.00pm to 4.00pm) - an activity based around a criminal investigation in the Learning Centre. Our visitors will be able to look at fossil remains, and help work out who the killer, the predator was! 10.00 to 4.00 Lyme Regis Museum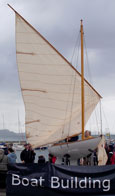 Boat Building Academy Boat Launch

Just eight months ago this Class was learning how to sharpen chisels and make dovetail joints. Now they're making boats as part of their training on our intensive 38 week 'Boat Building, Maintenance and Support' course. You can read what brought each student to the Academy on the class page and follow the progress of the boat builds here.

At 9.30am(ish) the boats will be led from the Academy's workshops on Monmouth Beach to Lyme Regis Harbour. Champagne corks will pop and each boat will be launched into the water for the first time. The launch will celebrate the achievements of the class, the end of their training at the Academy and the start of their new lives as boat builders.

the slipway -

This is an approximate time due to the scale of the event.

more info.. see right
---